Tags
Related Posts
Share This
2013 Favorites of the Crimespree staff: Seen
Patti Abbott's Favorite Film Performance of 2013
Instead of either predicting or choosing actors who would fall neatly into a category for Oscar consideration, here are some of my favorite performances of last year.
Will Forte, Bruce Dern, June Squibb and Bob Oderkirk were the most realistic, dysfunctional family on the screen last year in NEBRASKA. Although Dern is getting most of the attention, the actors playing his wife and two sons were equally believable, lovable. I was especially impressed with Will Forte who brought considerable depth to his first dramatic role. And June Squibb-well, we all know a woman like her. We just don't often see it at the movies.
Ethan Hawke and Julie Delphy made their third movie, documenting the 20 year relationship of a couple in BEFORE MIDNIGHT. Look at their body language and tell me these two aren't married. And the final scenes are simply breathtaking as they walk through history and their personal history, in effect.
Waad Mohammed carried the credibility of WADJDA, a Saudi Arabian film, on her frail back. It's about a girl determined to have a bike in a society that sees bikes as the province of boys. This is a movie that could have been either too sweet or too sad, but Mohammed made Wadjda real.
Although AMOUR is a 2012 film, I saw it in 2013 so I am including Jean-Louis Trintignant and Emmanuella Riva as the most endearing and authentic elderly couple in the movies last year.
Lea Seydoux and Adele Exarchopoulos starred in BLUE IS THE WARMEST COLOR. The heartbreak of young love and the question of what place class plays in a relationship is more important than its provocative love scene between the two women. Gorgeous.
James Franco is a delight in the always surprising and fun SPRINGBREAKERS. He steals the show from the bikini-clad spring breakers he dallies with.
Robert Redford shows you he is not just a pretty face in ALL IS LOST. If you ever doubted his ability to act and carry a movie, this is proof of it.
Great Gerwig is her usual charming self in FRANCES HA. This is proof that a movie can be about a difficult yet believable woman.
Michael B. Jordan is terrific in FRUITVALE STATION. His characters bad moments are outnumbered by his good ones as a young man that pays a horrible price for a night out. Here is another film that shows family life in a vibrant yet realistic way.
Sandra Bullock continues to impress in GRAVITY. I am a sucker for movies where people attempt to solve problems and both Bullock and Redford pulled this off.
Spending a few days with Oscar Isaac in INSIDE LLEWYN DAVIS was a good end to a great year in films. Those Coen Brothers did something special with this one-they made constant movement seem like stasis. I need to say more about that later.
Patti Abbott
The Top Ten Movies of the Movies I Saw This Year by Jo
10. THOR: THE DARK WORLD– It really came down to this and Iron Man 3. And there was just a bit more fun for me in Thor. It looked great, was exciting and there more connections to future Marvel movies. Now if they could just get rid of Jane Foster the series would be perfect…
9. THIS IS THE END– This is what happens when you give a group of A-list best-buddies a budget. They nerd out and make their own insane, absurd and hilarious movie. The definition of a "labor of love" project, "This is the End" joyfully skewers every star and we devour it. I never want to be near these guys in the apocalypse but I sure love watching it.
8. WARM BODIES– And out of nowhere this delightful little romantic zombie comedy arrives. Turns out zombies get bored. And fall in love. Unfortunately, the girl that 'R' is falling for is the daughter of the man leading the resistance against the undead. Don't you hate it when that happens?
7. ENDER'S GAME– Forget everything you know about the writer and just see it. It's phenomenal. Breathtaking visuals forge the way for a shocking and powerful story. Asa Butterfield steals every scene he's in and with a supporting cast featuring Harrison Ford and Ben Kingsley that's not easy. Everything about the film is done right. It's a perfect sci-fi film.
6. HUNGER GAMES: CATCHING FIRE– It's tough to top the sheer enthralling adrenaline rush that came with the first movie but a new director cranked the dial to eleven. Delving more into the mythos that comes with the games the movie added layers putting Katniss into greater dangers than ever. The second book was the best and the movie follows suit.
5. GRAVITY– There are two things that make "Gravity" a must watch. The stunning visuals and Sandra Bullock. Alfonso Cuarón's direction are something to behold. The entire movie keeps you feeling like you're in space, drifting with Bullock. It's a story of her survival, dealing with her logic and keeping her panic in check. Bullock stays on the top of her game is a high point of this thrilling movie.
4. FROZEN– Disney has reclaimed its place as the top animated producer. A string of great movies since 2009's "Princess and the Frog" have culminated with the beautiful "Frozen." Touching, funny, and gorgeous "Frozen" is a prime example of a family film for all ages. Catchy tunes and an incredibly real dynamic between sisters are the cherry on top of this delicious sundae.
3. THE CONJURING– I love horror movies. Good, bad, I love them. Every now and then one comes along and surprises me with the quality and tension that a horror movie should have. Director James Wan has proven his ability to do any subgenre of horror. His talent shines with the subtle moments to the terrifying shocks that come with a great scary movie.
2. AMERICAN HUSTLE- The brilliance of David O Russell's filmmaking, the award-laden cast of Christian Bale, Bradley Cooper, Jennifer Lawrence, Amy Adams, Jeremy Renner, and Louis C.K. in a heist movie set in the 70's? Yes. Yes to all that.
1. THE WAY WAY BACK– What a beautiful, earnest slice of life. The main character's struggle with finding who he is, dealing with his lonely mom, her douchebag of a boyfriend and spending a summer away from everyone he knows is so real it just speaks to you. Even if nothing in this movie reflects from your life you feel the truth. And it's life. Life is funny and sad and quirky and crazy. So is "the Way Way Back."
Jo Schmidt
My favorite Movies by Tim Hennessy.
In a year that had an absolute abundance of riches, there was no movie that rocked me harder than first time filmmaker Destin Cretton's THE SHORT TERM 12.
The film focuses on a foster-care facility for at-risk teenagers and the staff that works tirelessly to care for them. Brie Larson plays Grace, a counselor passionately committed to her charges, but struggling to keep her personal demons from influencing her when she connects with a new arrival whose home situation looks painfully familiar.
With the material at hand, Cretton tightrope walks through a mine field of potential melodrama or heavy handedness. Instead he gives us a richly crafted film that perfectly balances dramatic and comedic tones without ever compromising the heartfelt story or captivating performances.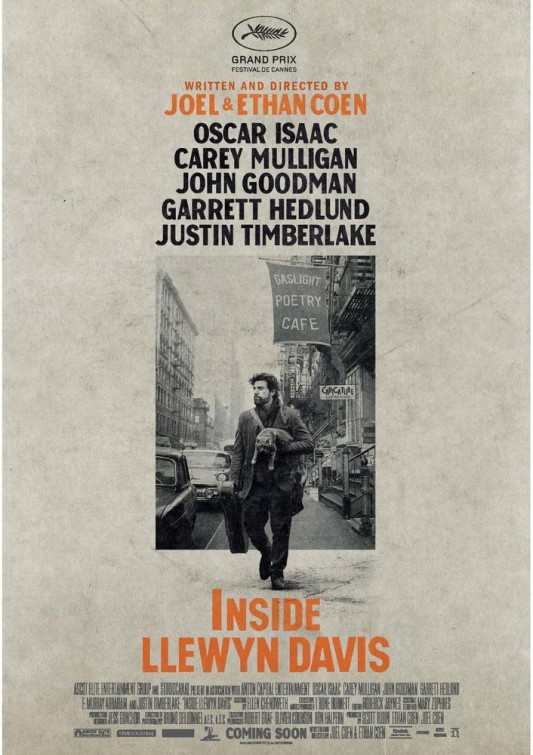 Joel and Ethan Coen's darkly comic INSIDE LLEWYN DAVIS follows a self-defeating 1961 Greenwich Village folk musician through a particularly hellish week in his struggling career. Unrelentingly driven despite being perpetually frozen without a coat or home, Llewyn'a Odyssey-like quest to restart his career maybe the crown jewel in the Coens' rich body of work.
Richard Linklater's BEFORE MIDNIGHT, his latest entry into the trilogy of films about the relationship between Jesse and Celine, is a look beyond their romantic meeting to challenges of middle age and marriage. The chatty banter has given way to bouts of sniping and heated arguments, although the passion between them is no less present. Just as painful and awkward as watching any long time friends fight we can only hope that Linklater, Delpy and Hawke will give us another chance to check in on them again.
Spare as its landscape, Alexander Payne's comedic road trip NEBRASKA follows Woody Grant, an elderly man on a delusional quest to claim money he believes he won. Woody's youngest son feels compelled to join him on the journey in hopes of finally getting chance to learn more about his enigma of father. Bruce Dern and Will Forte's reserved performances fuel another deadpanned gem from Payne.
Tim Hennessy
Favorite Television seasons
First, let me start by saying my TV viewing was a little limited this last year. So don't freak out when BREAKING BAD or GAME OF THRONES is missing from this list. This is simply the things that brought me happiness in the last year.
JUSTIFIED (FX). While season four did not contain a jaw-dropping performance like season two's Margo Martindale , it offered up top notch performances from a fantastic supporting cast and the kinds of trecherous deeds we have come to expect. One of my favorite things about the show is that the region plays a major role. It is not simply that it is set in Kentucky, but about the people of the area and the mannerisms and whatnot that are a part of them.
THE NEWSROOM (HBO) This pick will almost certainly draw some cries of protest and some teethnashing, but I am a fan of Aaron Sorkin's idealized brand of TV. Season one was a mixed bag. Some was good, but it was very uneven and some of the storylines simply did not interest me.
But season finds the actors, and Sorkin, getting a better handle on the characters. Thomas Sadowski's Don Keefer really was, in particular, awesome. The relationship (not romantic until the very end of the season) with Olivia Munn's Sloan Sabbith was delightful and a welcome change from the plodding mess between Maggie (Alison Pill) and Jim (John Gallagher).
Is it world class? Not at all. But the overall quality has risen and Sorkin's dialogue is as entertaining as ever.
THE AMERICANS (FX)
Set in 1981, this drama tells the story of two KGB spies posing as an suburban couple in America. Kerri Russel and Matthew Rhys are Elizabeth and Phillip Jennings. They run a travel agency, are raising two children and spying for mother Russia. The plotting is strong, offering up plenty of twists and plot turns to keep the viewers guessing, while turning up the tension episode by episode. But even the smartest plot would not be enough if the acting was not there. Russel and Rhys give the type of performances that make careers. Who knew Felicity could be so mean? THE AMERICANS is another fine example of just how good television can be.
Honorable mention: THE BLACKLIST. In the last few years, there has been a sort of TV sub genre in which a brilliant, but often difficult, person helps law enforcement solve crimes. WHITE COLLAR, THE MENTALIST, PERCEPTION..these are the ones that come to mind.
The latest such is THE BLACKLIST. James Spader is Red Reddington, a notorious international criminal. At the start of the show, he turns himself in to the FBI and offers to assist them. The catch is he must work with rookie FBI profiler Elizabeth Keen. Each episode finds them going after another terrible Mcnasty. But what elevates the show is the sub plots and many secrets that lie just beyond our grasp. Season one of WHITE COLLAR was similar, with the mysterious music box, but the mysteries here are more about the people and not an object. What is the relationship between Red and Liz? Is her husband hiding a dark past? What caused Red to turn to crime?
I will certainly be sticking around to find out.
Jeremy Lynch
Jen Jordan's TV/Movies viewed on her Laptop
AMERICAN HORROR STORY – ASYLUM
ORPHAN BLACK
LOUIE
WILFED
MISS MARPLE
Jennifer Jordan
Bryan VanMeter's Top Five films
Movies
IRON MAN 3
STAR TREK: INTO DARKNESS
FROZEN
MUCH ADO ABOUT NOTHING
JOHN DIES AT THE END