Tags
Related Posts
Share This
Hazel Gaynor's THE GIRL FROM THE SAVOY Reviewed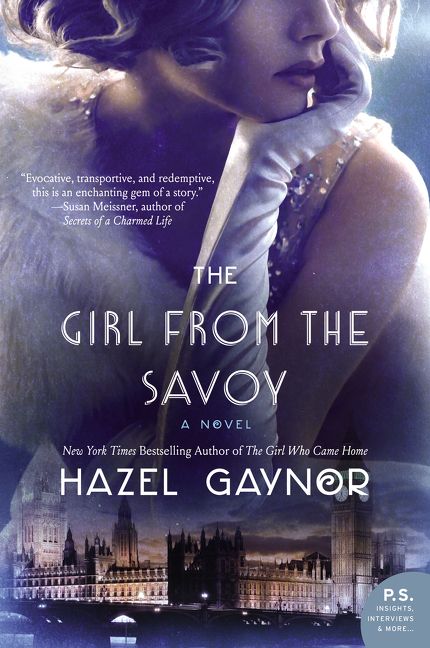 THE GIRL FROM THE SAVOY
Hazel Gaynor
William Morrow
June 7th, 2016
THE GIRL FROM THE SAVOY by Hazel Gaynor is a fascinating historical novel that touches on intense and compelling themes where dreams really do come true. Readers will take the adventurous journey with the main characters as they struggle with love, hope, loss, and healing.
This rags to riches story has Dorothy "Dolly" Lane struggling to overcome the low-life career of being a chambermaid, someone invisible to the upper class, while striving to become a renowned star of the London stage. Many readers might be reminded of the musical My Fair Lady based on the play Pygmalion. The story line has Dorothy taken in by Loretta May, a famous actress who has a rebellious streak and lives as she likes. She hopes to teach Dorothy how to fit into upper society and become her protégé. But the story also has Loretta, the daughter of an Earl, falling in love and marrying a soldier, a commoner without a title.
Set shortly after the end of WWI, this novel is told by three narrators in the first person, with each perspective offering some of the historical past. Through Dolly readers can explore the class system and the rise of women's independence; Loretta and her brother Perry explore the Jazz Age; and Teddy Cooper, Dolly's fiancé, is a solider whose life is changed by the war as he suffers from shell shock. It is through Teddy that readers understand how WWI loomed large over everyone and everything.
All the characters are fascinating, including many interesting secondary ones that also influenced the story including the Savoy Hotel. Through the descriptions and events within the hotel it becomes clear that it takes on a personality of its own, almost speaking to the characters. For some it becomes a place of security, almost like returning to a long lost friend.
It appears that the hotel reacts to the issues the characters face including their sense of loss and how they are haunted by those memories. Teddy has amnesia and lost the life he once knew. Reflected in this quote by Dolly are her feelings, "My heart was broken, my dreams were shattered, my hopes were bruised. Without ever stepping onto a battlefield, I too was wounded… In many ways Teddy did not come back at all." Loretta lost her newlywed husband during the war, and Perry, the musical composer brother, lost his edge, preferring to be a follower than a leader, after being part of a firing squad that killed his best friend.
If THE GIRL FROM THE SAVOY is the first book read by Gaynor it will not be the last. She uses the backdrop of World War I to create a riveting and gripping plot with characters that will pull the reader immediately into the story. Not only will people learn about the history of the 1920s, but will feel they are along for the ride with the very well developed characters.
Elise Cooper