Tags
Related Posts
Share This
5 Books and Albums that changed my Life: Max Allan Collins
Here are five books:
THE MALTESE FALCON by Dashiell Hammett— I saw the movie first as a kid, and — in the midst of the TV private eye craze — and discovered the novel was at least as much fun as the Bogart movie. When I say "kid," I mean around 12.
FAREWELL, MY LOVELY by Raymond Chandler — So it wasn't much of a jump from Hammett to Chandler. There was even a short-lived TV series (not the Powers Boothe one — I'm way older than that…we're talking Phillip Carey) to encourage me. I discovered how much I loved the first-person storytelling and the poetic language, and this really sparked my desire to write. At the time I was a budding kid cartoonist, but discovering these hardboiled private eye writers soon found the drawing slipping away. Of course, I hadn't seen the last of comics in my life….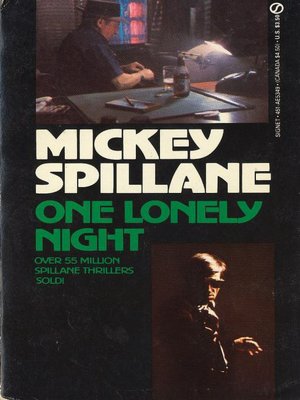 ONE LONELY NIGHT  by Mickey Spillane— Mickey Spillane's Mike Hammer, who I knew by way of Darren McGavin on TV, became my immediate obsession when my 13 year-old mind suffered a serious warping thanks to this fever-dream masterpiece.
THE POSTMAN ALWAYS RINGS TWICE  by James M. Cain — Cain's breakneck first-person prose captivated me, making me understand that the hardboiled approach was not limited to private eye heroics. As a young teenager, the sexual content — and probably more critically, the love story aspect — of the novel changed the way I looked at not just fiction, but the world. You could identify with really bad people. You could even root for them. How odd and how liberating.
POINT BLANK by Richard Stark (aka Donald Westlake) — The movie edition of THE HUNTER combined the two branches of hardboiled fiction for me. Parker was a bad guy but he had the moves and even the code of a hero. And Westlake's handling of point of view fascinated me, so much so that I copied it in my earliest novels. He was a great teacher, teaching writers by example. He was the last mystery writer I read who had any influence on me. Once my career began, I began viewing everybody else as the competition. And I still do.
Here are five albums:
THAT'S ALL by Bobby Darin. There can be no doubt that "Mack the Knife" hit me in my mystery-loving heart, even if I was only 11. Darin brought a brash, rock 'n' roller's approach to standards and his confidence, his cockiness as a performer excited me. He was a Sinatra for my generation, both cooler and hotter than Frank. I still feel that way. It's a great album — "Beyond the Sea" is on there, but every track is wonderful. And he was 22 when he recorded it.
MEET THE BEATLES by The Beatles.– My generation had its own sound suddenly. We all had instant amnesia — Fabian who? The songs had a sound at once familar and foreign, and the melodies were as catchy as the beats were infectious. It made me want to play in a band, and I wasn't alone — there were over thirty combos in Muscatine, Iowa, in 1966…a town of 22,000. But I'm still playing.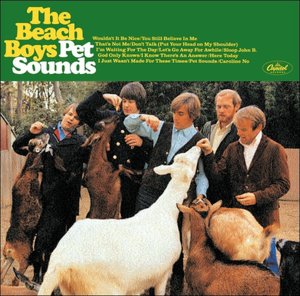 PET SOUNDS by The Beach Boys — Brian Wilson, whatever strange mental paths he would eventually traverse, knew how to tap into the teenage minds of my generation. Sweet, knowing and almost symphonic, this one still brings tears to my eyes.
MY AIM IS TRUE by Elvis Costello — I saw Elvis Costello on SNL, where he started one song then abruptly switched to another, and was offended by his manner and outraged generally by his presentation. But I couldn't stop thinking about what I'd seen and heard, and then the next day snapped my fingers and said, "It's rock 'n' roll!" I went out and bought his first three CD's and they remain among my favorite albums. Like the Beatles, he could write melodies and still rock, and he took the literacy of the form up many notches. I become frustrated with him at times — I threw his CD of duets with an off-pitch opera singer off a bridge — but he is still an amazing entity.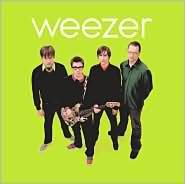 Weezer/GREEN ALBUM — I attended a concert with my son, strictly as a chaperone. He and his high school friends were down on the floor of the giant venue, and I just went up to the balcony where you could actually sit down. I was just marking time. When Weezer came on, playing their deceptively simple, tuneful, rocking numbers, I got on my feet like everybody else. I bought all of their CDs at the merch table and could not stop listening to them. This one, not popular with all Weezer fans, is a masterpiece of straightforward performance and catchy melodies, smart and fun.
Max
And he will be this year's First Lord of Mysteries at the International Mystery Writers' Festival June 14-17 www.newmysteries.org

MAX ALLAN COLLINS was hailed in 2004 by Publisher's Weekly as "a new breed of writer." A frequent Mystery Writers of America "Edgar" nominee, he has earned an unprecedented fifteen Private Eye Writers of America "Shamus" nominations for his historical thrillers, winning for his Nathan Heller novels, True Detective (1983) and Stolen Away (1991).
His graphic novel Road to Perdition is the basis of the Academy Award-winning film starring Tom Hanks, directed by Sam Mendes. His many comics credits include the syndicated strip "Dick Tracy"; his own "Ms. Tree"; "Batman"; and CSI: Crime Scene Investigation, based on the hit TV series for which he has also written video games, jigsaw puzzles, and a bestselling series of novels (for Pocket Books) that has sold over 1.5 copies in America alone.
He has been termed "the novelization king" by Entertainment Weekly, with tie-in books on the USA TODAY bestseller list nine times and the New York Times list twice. His movie novels include Saving Private Ryan, Windtalkers, Waterworld, I Love Trouble, Daylight, I Spy, U.S Marshals, Air Force One, Maverick, U-571, The Mummy, The Mummy Returns, The Scorpion King and The Pink Panther. He even wrote the prose version of the film script based on his own Road to Perdition. His TV tie-in work includes two NYPD Blue novels, a trio of DARK ANGEL books and the current BONES novel, Buried Deep.
An independent filmmaker in the midwest, he wrote and directed the Lifetime movie "Mommy" (1996) and a 1997 sequel, "Mommy's Day." He wrote "The Expert," a 1995 HBO World Premiere, and wrote and directed the innovative made-for-DVD feature, "Real Time: Siege at Lucas Street Market" (2000). "Shades of Noir" (2004), an anthology of his short films, includes his award-winning documentary, "Mike Hammer's Mickey Spillane." Shooting on a feature film based on his acclaimed novel, The Last Quarry, began shooting in January 2007 from the author's screenplay.
His other credits include film criticism, short fiction, songwriting, trading-card sets. His non-fiction work has received many honors, with his coffee-table book The History of Mystery receiving nominations for every major mystery awards and his recent Men's Adventure Magazines winning the Anthony Award.
Collins lives in Muscatine, Iowa, with his wife, writer Barbara Collins; they have collaborated on three novels and numerous short stories. You can find him on Facebook, Twitter and his own site. The next book in the Nathan Heller series, TARGET LANCER, will be released on Nov 27th and the paperback of BYE BYE, BABY came out on May 22nd.