Tags
Related Posts
Share This
Hilary Davidson: 5 Books, Movies and Albums That Changed My Life
When I think of the books, movies and music that influenced me most, my mind immediately goes to my earliest obsessions.
THE SECRET OF THE OLD CLOCK by Carolyn Keene — I often joke at readings that Nancy Drew is the gateway drug to crime fiction, but for me, that's no lie. My grandmother bought me my first Nancy Drew books when I was six years old, and I fell in love with the series. She hunted down early editions of the books for me, and I always assumed it was because some from the 1930s and 1940s had lovely pen-and-ink drawings. But Nancy herself was a little different in the original novels — a bit snarky and more daring than her 1950s incarnation (the earlier books were rewritten to make Nancy more ladylike). I still love a heroine who's fearless but not always right about everything.
REAR WINDOW — I'm a lifelong Alfred Hitchcock fan, and this was the first movie of his that I saw. In some ways, it's a perfect intro to the director's peculiar brand of genius: it stars Jimmy Stewart (the perfect Everyman) and Grace Kelly (the perfect icy blonde — one of Hitchcock's obsessions); it features claustrophobic settings (Stewart's character has a broken leg, so he's trapped in his apartment); and it offers a plot driven by paranoia and suspicion. I watched Rear Window over and over, captivated by how Hitchcock turned a seemingly innocuous setup into something sinister. My fascination with Hitchcock had a strange spinoff benefit: in high school, it led to new friendships (and long discussions) with people who were just as obsessed.
LORD OF THE FLIES by William Golding — I read this novel for the first time when I was 12, and I've re-read it four or five times since then. It was the first time a book so completely captured my imagination that I slipped right into it. Even though there are no girls in the book, I felt like I was trapped on that island along with that sad group of castways. The novel is deeply psychological and hopelessly dark. Even the "rescue" at the end is a kind of tragedy: not only does it happen far too late, but it takes the boys from the war on the island to the war in the world beyond it.
BREAKFAST AT TIFFANY'S by Truman Capote — If you've seen the 1961 movie starring Audrey Hepburn, you'll need to push it out of your mind, because the book is so much darker. The story is many things: a crime novel, a study of New York society, an exploration of the modern desire to reinvent ourselves. But at its heart is Holly Golightly, that amazing, troubled, headstrong character who marches off the page with her head held high, never looking back over the train wreck that is her life.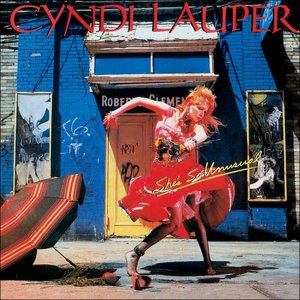 SHE'S SO UNUSUAL by Cyndi Lauper — There are a whole slew of albums that influenced me at a young age (Thriller by Michael Jackson, Purple Rain by Prince, and Rio by Duran Duran are all up there), but Cyndi Lauper was the singer I wanted to see perform live. (If my parents ever want to blackmail me, they can hunt down the photo of 12-year-old me dressed up for the concert. I don't remember exactly what I wore, but it involved several shades of neon.) Her voice was as quirky as everything else about her, but her songs didn't capture my interest as much as her persona did. What I loved most was that Cyndi did her own thing, no matter how goofy it looked to everyone else (and she talked very publicly about being bullied for it as a kid). She seemed just a little bit crazy, but she made perfect sense to me.
Hilary Davidson
Hilary Davidson is the author of The Damage Done, which won the Crimespree Award for Best First Novel as well as an Anthony Award. Her second novel is The Next One to Fall (Forge, 2012); the third book in the series, Evil in All Its Disguises, will be published by Forge on March 5, 2013. Visit her online at www.hilarydavidson.com.