Tags
Related Posts
Share This
5 Books That Changed My Life: Stanley Trollip (of Michael Stanley)
Alice's Adventures in Wonderland – Lewis Carol
I was 10 years old when I played the March Hare in my primary school's stage play of this classic. I immediately fell in love with worlds different from my own, worlds that had their own nonsensical logic that made sense to me. It made me believe that looking at things differently was okay. It also showed me how powerful words could be.
"I can't go back to yesterday because I was a different person then."
"My dear, here we must run as fast as we can, just to stay in place. And if you wish to go anywhere you must run twice as fast as that."
On the Beach – Nevil Shute
I was in high school when I read this. I started it before my lights-out time, but continued reading into the wee hours of the morning until I reached the end. As I switched off the light, I remember being resigned to the fact that I was going to die. When my father woke me up in the morning to go to school, I was totally bewildered. I should have been dead. The impact that this apocalyptic story had on me gave me a deep appreciation of the power of story-telling.
King Rat – James Clavell
Set in a Japanese prisoner of war camp in World Was II, King Rat is a story of survival in horrific circumstances. The main character is an American who is a master of trading and runs a successful (black market) business in the camp, buying and selling food and other items. He comes into conflict with other characters, mainly British, whose principles are less flexible. I regard this book as the first one that opened my eyes to how people react differently to the same circumstances and how flexible morality can be. Clavell's words opened up the idea of character to me more so than other books I had read.
Cry the Beloved Country – Alan Paton
This classic was published in the same year that the National Party came to power in South Africa. The Nats, as they were called, were responsible for the institutionalization of apartheid. For reasons I have never really understood, from a very young age I was appalled both by the premise of apartheid (that Black people were inferior to Whites) as well as the impact the legislation had on decent people. Reading Cry the Beloved Country made me cry and feel ashamed that I was a privileged White.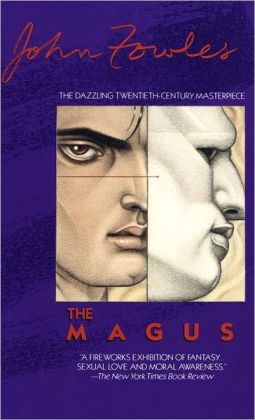 The Magus – John Fowles
I had a difficult time deciding whether to list The Magus or The Collector, two of John Fowles books that I love. I decided on The Magus because I have seen the movie (Michael Caine, Anthony Quinn, Candice Bergen) more times (around 10) than I've seen The Collector (Terence Stamp and Samantha Eggar) (4 or 5 times). That's probably because I had a crush on Candice Bergen. The Magus is a weird book in which the main character, Nicholas Urfe, gets sucked into a series of psychological games, with Greek tycoon, Maurice Conchis. As the games progress, Nicholas finds it increasingly difficult to differentiate between what's real and what's not. The book spoke to me so strongly, probably because it reflected my own psychological uncertainties at the time as an undergraduate at university.
Stanley
Stanley Trollip is one half of Michael Stanley (the other half being Michael Sears). As Michael Stanley, they have write the Detective Kubu series. Kubu is an Assistant Superintendent in the Criminal Investigation Department of the Botswana police. The fourth in the series, Deadly Harvest, will be released next Tuesday (April 30th).