Tags
Related Posts
Share This
A HIGH-END FINISH by Kate Carlisle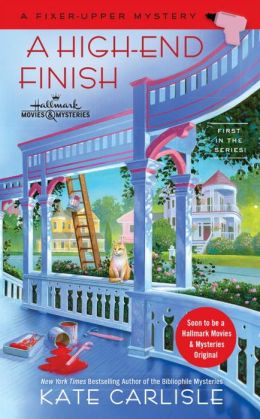 A HIGH-END FINISH
Kate Carlisle
2014
Obsidian Mystery
A charming seaside setting in Northern California is the town of Lighthouse Cove. The town's contractor is Shannon Hammer. Her business is renovating Victorian homes. The business left to her by her father. Shannon may need a few coats of paint in the romance department, but her business is booming, and the peaceful setting of the town is about to be on some shaky ground of some stormy weather.
Shannon discovers a dead body of the man she just had a blind date with in one of the house she is renovating. With finding the body leaves Shannon as the main person of interest. She is now the suspect in the eyes of the Chief.
Shannon involves the help of her four best pals, her father, a nosy neighbor and a crime writer who just happens to rescue her from an accident. Shannon has to find the killer before her name and her business is left in shambles. The talk and rumor mill runs amok in the quiet town. Shannon's been attacked, blamed and accused of another killing in her own driveway.
Who is causing all this disturbance in a town that is relatively normal? Can Shannon find the murderer before more murders happen? Shannon needs to clear up a whole lot of mess before she can gain back trust. During the process Shannon may also just find her heart can be rebuilt. Will Shannon finally find a man for her to finally trust?
Kate Carlisle brings you a new story that has many twist and turns. There is more than enough excitement in the pages, you won't realize the time has gone by and you're on the last page. This is a cozy to cozy up to.
Marie Nicoll