Tags
Related Posts
Share This
A look at the full cast of WAYWARD PINES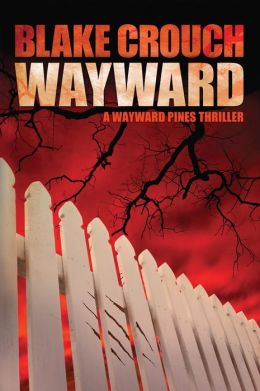 WAYWARD, Blake Crouch's new book, is primed for big things. It is not just that the book is garnering positive reviews prior to it's release, it is that it's characters and story are in the process of making their way to the small screen.
In May, I reported that M. Knight Shyamalan and Chad Hodge are producing WAYWARD PINES for Fox. WAYWARD is the second book to feature Ethan Burke and the town of Wayward Pines.
Matt Dillon is playing Ethan Burke. Also on board are Melissa Leo (Nurse Pam, a healing hand that may have a more sinister side), Carla Gugino (Kate Hewson, Ethan's former SS partner and current resident of WP), Terrence Howard (Sheriff Pope), Toby Jones (Dr. Jenkins), Shannyn Sossamon (Theresa Burke, Ethan's wife), Greta Lee (Ruby, worker at the local coffee shop),  Lindsey Kraft (Darla, Ethan's sister-in-law), Tim Griffin (Adam Hassler, Ethan's boss at the Secret Service), Charlie Tahan (Ethan'son). Juliette Lewis (Beverly, a local bartender that shares some of Ethan's fears about the town).
The series will consist of ten episodes and begins with the story of the first novel: Burke arrives in Wayward Pines, Idaho, with a clear mission: locate and recover two federal agents who went missing in the bucolic town one month earlier. But within minutes of his arrival, Ethan is involved in a violent accident. He comes to in a hospital, with no ID, no cell phone, and no briefcase. The medical staff seems friendly enough, but something feels…off. As the days pass, Ethan's investigation into the disappearance of his colleagues turns up more questions than answers. Why can't he get any phone calls through to his wife and son in the outside world? Why doesn't anyone believe he is who he says he is? And what is the purpose of the electrified fences surrounding the town? Are they meant to keep the residents in? Or something else out? Each step closer to the truth takes Ethan further from the world he thought he knew, from the man he thought he was, until he must face a horrifying fact—he may never get out of Wayward Pines alive.
WAYWARD was released, by Thomas and Mercer, today. Check out the official summary for book two: Welcome to Wayward Pines, population 461. Nestled amid picture-perfect mountains, the idyllic town is a modern-day Eden . . . except for the electrified fence and razor wire, snipers scoping everything 24/7, and the relentless surveillance tracking each word and gesture.
None of the residents know how they got here. They are told where to work, how to live, and who to marry. Some believe they are dead. Others think they're trapped in an unfathomable experiment. Everyone secretly dreams of leaving, but those who dare face a terrifying surprise.
Ethan Burke has seen the world beyond. He's sheriff and one of the few who knows the truth — Wayward Pines isn't just a town. And what lies on the other side of the fence is a nightmare beyond anyone's imagining.