Tags
Related Posts
Share This
Aaron Stockard to adapt Thomas Perry's STRIP.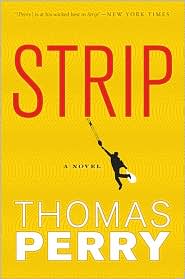 When an author signs a film option for one of his novels, he has to resign himself to the fact that A)Nothing could happen, B) Something good could happen or C) A turd could result.
Getting a good screenwriter can go a long way towards keeping option C from occurring. Sure, a director can veer from the screenplay (especially a director of considerable stature), but a skilled screenwriter is able to make the changes needed to make a good book a good film, while still keeping the soul of the source material.
 Thomas Perry's STRIP just snagged itself a good screenwriter.
Deadline is reporting that Aaron Stockard will be adapting STRIP. Stockard has worked with Ben Affleck on THE TOWN and GONE BABY GONE, both of which are based on crime novels. He also wrote a screenplay for Marcus Sakey's THE BLADE ITSELF. While that has not made it to the big screen, Sakey was very happy with what Stockard did with his story.
An aging but formidable strip club owner, Claudiu "Manco" Kapak, has been robbed by a masked gunman as he placed his cash receipts in a bank's night-deposit box. Enraged, he sends his half-dozen security men out to find a suspect who is spending lots of cash and is new enough to Los Angeles not to know he was robbing a gangster.
Their search leads them to Joe Carver, an innocent but hardly defenseless newcomer who evades capture and sets out to make Kapak wish he'd chosen someone else. Meanwhile, the real culprit, Jefferson Davis Falkins, and his new girlfriend Carrie seem to believe they've found a whole new profession: robbing Manco Kapak.
Lieutenant Nick Slosser, the police detective in charge of the puzzling and increasingly violent case, has his own troubles, including worries about how he's going to afford to send the oldest child of each of his two bigamous marriages to college without making their mothers suspicious.
As this odd series of difficulties explodes into a triple killing, Carver finds himself in the middle of a brewing gang war over Kapak's little empire, while Falkins and Carrie journey into territory more strange and violent than either had imagined.