Tags
Related Posts
Share This
Ace Atkins: 5 Southern Films that have influenced my Quinn Colson books.
Southern Films that have influenced my Quinn Colson books by Ace Aktins
1. Deliverance — The film of the James Dickey novel is the quintessential trip into the Southern heart of darkness. I paid homage to the scenes with Burt Reynolds and his crossbow in the first Quinn book, "The Ranger." We also learn Quinn's father was a longtime stuntman for Burt.
2. Smokey and the Bandit — While we're discussing Burt, how about my all-time favorite Southern movie? Although my vision of the South is darker and much grittier than the 1976 comedy, the 1970s landscape and feel of the South comes straight out of my youth. The aesthetic of the 1970s South plays a major role in Quinn's world.
3. White Lightning — I promise this not a complete Burt list. But come on, White Lighting. This revenge flick about "Gator" McKlusky's release from prison to infiltrate the corruption in his hometown is the DNA that makes up Jericho, Mississippi. The use of real-life Benton, Arkansas adds a huge dose of realism to the film.
4. Thunder Road — Mitchum, moonshine, revenge. A Korean War vet comes home to run shine but has to battle out with big city gangsters who want to take over the family business.
5. Walking Tall — Although I enjoyed the recent remake with The Rock, you can't compare it to the original. The singular performance by Joe Don Baker is legendary as the man who walks softly and carries a massive stick. The later versions lost a core of what made this film a classic — the American South.
Ace
Ace Atkins is the New York Times Bestselling author of more than a dozen novels, including the Quinn Colson and Nick Travers series.
A former journalist who cut his teeth as a crime reporter in the newsroom of The Tampa Tribune, he published his first novel, Crossroad Blues, at 27 and became a full-time novelist at 30. Last year, he was selected by the Robert B. Parker estate to continue the bestselling adventures of Boston's iconic private eye, Spenser. The most recent, Robert B. Parker's WONDERLAND, was released on May 7th.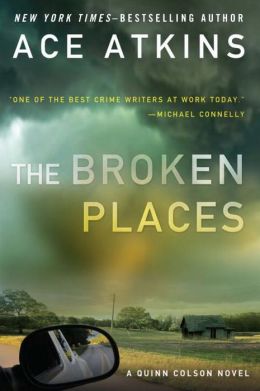 As a reporter, Ace earned a Pulitzer Prize nomination for a feature series based on his investigation into a forgotten murder of the 1950s. The story became the core of his critically acclaimed novel, White Shadow, which earned raves from noted authors and critics. In his next novels, Wicked City, Devil's Garden, and Infamous, blended first-hand interviews and original research into police and court records with tightly woven plots and incisive characters. The historical novels told great American stories by weaving fact and fiction into a colorful, seamless tapestry.
Ace lives on a historic farm outside Oxford, Mississippi with his family. The next book in the Quinn Colson series, THE BROKEN PLACES, is due out on May 30th.