Tags
Related Posts
Share This
Ace Atkins and Linda Barnes are featured in this week's giveaway.
This week , in conjunction with Friday Reads Facebook page, we are giving away copies of Robert B. Parker's WONDERLAND by Ace Atkins and THE PERFECT SHOST by Linda Barnes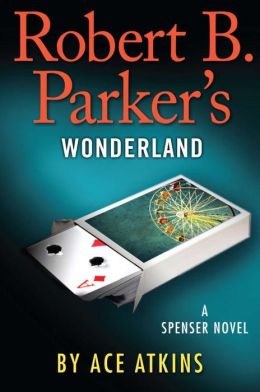 ROBERT B. PARKER'S WONDERLAND by Ace Atkins
Henry Cimoli and Spenser have been friends for years, yet the old boxing trainer has never asked the private eye for a favor. Until now. A heavy-handed developer is trying to buy up Henry's condo on Revere Beach and sends thugs to move the process along. Soon Spenser and his apprentice, Zebulon Sixkill, find a trail leading to a mysterious and beautiful woman, a megalomaniacal Las Vegas kingpin, and plans to turn to a chunk of land north of Boston into a sprawling casino. Bitter rivals emerge, alliances turn, and the uglier pieces of the Boston political machine look to put an end to Spenser's investigation.
Aspiration, greed, and twisted dreams all focus on the old Wonderland dog track where the famous amusement park once fronted the ocean. For Spenser and Z, this simple favor to Henry will become the fight of their lives.
Ace Atkins is the New York Times Bestselling author of more than a dozen novels, including the Quinn Colson and Nick Travers series.
As a reporter, Ace earned a Pulitzer Prize nomination for a feature series based on his investigation into a forgotten murder of the 1950s. The story became the core of his critically acclaimed novel, White Shadow, which earned raves from noted authors and critics. In his next novels, Wicked City, Devil's Garden, and Infamous, blended first-hand interviews and original research into police and court records with tightly woven plots and incisive characters. The historical novels told great American stories by weaving fact and fiction into a colorful, seamless tapestry.
Ace lives on a historic farm outside Oxford, Mississippi with his family. The next book in the Quinn Colson series, THE BROKEN PLACES, is due out on May 30th.
THE PERFECT GHOST by Linda Barnes
A shy, agoraphobic ghost writer must complete a celebrity biography on her own after the suspicious death of her partner in a stunning standalone by the beloved Linda Barnes
Mousy, timid, and shy to the point of agoraphobic, Em Moore is the writing half of a celebrity biography team. Her charismatic partner, Teddy, does the interviewing, the negotiating, the public schmoozing. But Em's dependence on Teddy runs deeper than just the job—Teddy is her bridge to the world and the only source of love in her life. So when Teddy dies in a car accident, Em is devastated, alone in a world she doesn't understand. The only way she can honor his memory and cope with his loss is to finish the interviews for their current book—an "autobiography" of renowned and reclusive film director Garrett Malcolm.
Ensconced in a small cottage near Malcolm's Cape Cod home, Em slowly builds the courage and strength to interview Malcolm the way Teddy would have. She finds Malcolm at once friendlier, more intimidating, and far sexier than she had imagined. But Em soon senses trouble between Malcolm and one of his former stars, the washed-up Brooklyn Pierce, and she hears whispers of skeletons in the Malcolm family closet. And then the police begin looking into the accident that killed Teddy, and Em's control on her life—tenuous at best—is threatened.
In this stunning breakout novel from the beloved author of the Carlotta Carlyle mystery series, Linda Barnes slowly winds the strings tighter and tighter, leading the reader ever more deeply into the complex lives of her characters with pitch-perfect pacing and mesmerizing prose.
Linda Barnes wrote 16 mystery novels, 12 featuring her 6'1" redheaded private eye Carlotta Carlyle, and four featuring actor/detective Michael Spraggue, an amateur sleuth. In addition to best-selling mysteries, she has also written award-winning plays and short stories.
Among her many honors, Barnes won the Anthony Award for Best Short Story ("Lucky Penny," 1986) and the American Mystery Award for Best Private Eye Novel (A Trouble of Fools 1987). She has been nominated for both the Shamus and the Edgar. The Snake Tattoo was named one of the outstanding books of 1990 by The London Times and Lie Down With the Devil was named one of the Best Mysteries of 2008 by Publisher's Weekly.
She lives near Boston with her husband.
To be entered in the drawing shoot an email over to Jon?@crimespreemag.com (remove the question mark) And put CONTEST in the subject line. Also please put your address in the body of the email
We will pick the winners on May 31st.
When we do the drawing we will be sending an extra something for one lucky winner to be picked from the comments section of the Friday Reads face book page, so after you enter, go leave a comment!