Tags
Related Posts
Share This
ALPHA by Greg Rucka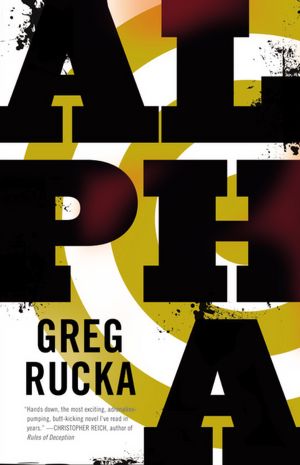 Alpha by Greg Rucka
Mulholland Books
May 2012
I'm kind of slow on the uptake. I'm the guy that doesn't realize the road is closed due to construction until it's too late. You know, the guy who remembers that his lucky shirt is in the wash… the morning he needs to wear it.
"That's too bad," you say. "But what's your point?"
The point is, even though Greg Rucka has been writing mystery/thrillers since 1996, and all of my trusted friends put Mr. Rucka at the top of their "Best Of" lists and "Writers You Should Be Reading " lists, yours truly has never picked one up.
I'm not a total heathen. I've followed Mr. Rucka's comics career: WHITEOUT, GOTHAM CENTRAL, 52, as well as his work on the QUESTION. I loved it all. So how come I never picked up one of his thrillers without pictures?
Because I'm kind of slow on the uptake.
ALPHA is a prime example of what I've been missing: a tightly woven military thriller dressed up in theme park costumes. Here we meet Jad Bell, a decorated member of Delta Force. When officials learn that a dirty bomb may have been planted in WilsonVille, one of America's premier theme parks, Jad goes undercover as the park security chief.
On what could possibly become the single worst day of his life, Jad's estranged wife is chaperoning his daughter's class field trip to WilsonVille. Jad's daughter Athena is deaf and goes to the Hollyoakes School for the Deaf. When the terrorist sleeper cell picks this day, the day Jad's wife and daughter are at the park to strike, they truly are in for more than they counted on.
What sets ALPHA apart from other military thrillers I've read, is the intense focus of the story's narrative. This is Jad Bell's story. And Jad sees his mission through to its final, inevitable conclusion.
Like I said, I'm kind of slow on the uptake. ALPHA has served as a firm smack in the back of the head. It's an introduction to an extremely talented thriller writer, working without benefit of a comic book artist. Now I know what everyone has been raving about.
Dan