Tags
Related Posts
Share This
An interview with C.J. Box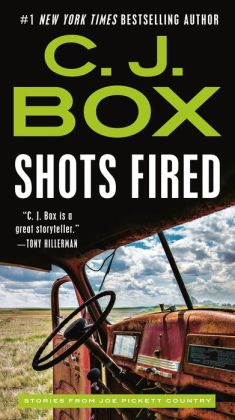 A Conversation with
C.J. BOX
Author of
SHOTS FIRED
Stories from Joe Pickett Country
Michael Barson: In SHOTS FIRED, you have quite an array of different story types—four Joe Pickett tales, a solo Nate Romanowski, a couple of historicals, and several contemporary crime yarns—not to mention one that takes place at Disneyland in France! Do you approach the writing of a short story with a freedom that feels different from the experience of writing a novel?
C.J. Box: Sure.  I find that the subjects of short stories are kind of like songs that you hear that won't go away (even if you never really liked the song.  Think: The Pina Colada Song from the 80's— okay, now try to get it out of your mind!), or peanut butter stuck to the roof of your mouth.  Despite the looming deadline for a novel or the next fishing trip, that damned short story idea just won't leave you until you sit down and make it real.  I can't move on until it's on paper (or a computer file, but you know what I mean).  Plus, I'm able to tackle subjects and locations I'd never include in a Joe Pickett novel or stand-alone.
Michael:  As you reveal in your Introduction, the story "Pronghorns of the Third Reich" was based on a photograph from 1936 you located in the special collections of the American Heritage Center at the University of Wyoming in Laramie. Coming across such a vintage treasure was an amazing stroke of luck, but can you talk about the process you went through that enabled you to build an entire story out of that one mysterious ancient photograph?
C.J.: I had a dilemma because I'd been asked by Otto Penzler of the Mysterious Bookstore in New York to contribute a story for a series of short books about bibliophiles, i.e. book collectors.  My dilemma was I had no idea what to write about.  While I was mulling it over, I ran across that photo.  Somehow, the assignment and the photo produced an idea.  I'm still astonished by the photo and the real-life story behind it, which I won't reveal here.  In fact, I keep that photo on my iPhone and sometimes I just look at it and shake my head.  
NOTE: Any reader who flips the pages to the photo at the end prior to reading the story will be shot. I have no sympathy for them.
Michael:  Your readers sometimes share a very colorful comment with you as part of their feedback… Did any of these stories elicit a reaction from a reader that particularly surprised you at the time?
C.J.: Le Sauvage Noble ("The Noble Savage") originally appeared as a very limited edition short story and was read by maybe two hundred people.  So we're talking about a very small universe of readers.  Despite that, I did get a few anguished letters and emails.  They consisted of different ways to ask if I'd lost my mind, or ask if my wife had read it before I sent it out.  But there were also readers who gave me the kind of (slightly amazed) feedback any author treasures.
Michael:  You're famous for the boots-on-the-ground research you do in preparation for writing your novels. How did you prepare your research for the historical story "The End of Jim and Ezra," which is set in 1835?
C.J.: I'm a closet enthusiast for the history of the Mountain Man era in the Rocky Mountains.  I can't say I've read every book written about that short and wild period but I've read most of them, and I'm fascinated by the place and the time and the characters.  I've always wanted to write a piece about that time — maybe someday, even a book! — and I was finally able to with this short story.
I used my familiarity with the era and combined it with a universal premise, which is: how could two friends and business partners spend an entire brutal winter together in one tiny cabin in the mountains? 
Michael:  Having Nate Romanowski featured solo in "The Master Falconer" begs the question of whether there might be another character in the Joe Pickett canon who you feel might warrant his or her own solo vehicle? There are so many colorful creations who appear more than once in those 14 novels…
The Master Falconer was an exercise for me to figure out whether I could write a story from Nate's point-of-view and feel comfortable doing it. I did. Thus, both Force of Nature and Stone Cold feature Nate Romanowski quite prominently, although they're still Joe Pickett books. I don't foresee other novels featuring solo turns by other characters in the series, but I'll never say never. That being said, I will say with some assurance that I'll never write a novel showcasing Joe's mother-in-law Missy. If that happens, I hope someone wise and reasonable will hit me over the head with a tire iron. 
Michael:  Along with the three new stories in this collection, several of the stories in SHOTS FIRED were written over a period of years for a variety of publications, some of them quite obscure. Which of these tales would you point to as having the oddest origin?
C.J. Le Sauvage Noble ("The Noble Savage") had the germ of an idea that occurred at, of all places, the American Embassy in the heart of Paris. 
I was there as part of a contingent of state tourism representatives who were in France to host a dinner and cocktail party for travel agents and journalists whom, we hoped, would write about the Rocky Mountain West or send clients there.  I found myself standing next to two American Indians in full native dress.  Since they weren't from any of our states (they were from Oklahoma), I asked why they were there. It was because, they said with a wink, French women liked the idea of having sex with Native Americans and they never missed an embassy reception. The reason made me whoop. The next night we attended the Wild West Show at Disneyland Paris, which confirmed what the Indians had said and revealed something about the French I never would have imagined.  
Readers might need to take a shower after this story.  I did.