Tags
Related Posts
Share This
AN OFFICER AND A SPY by Robert Harris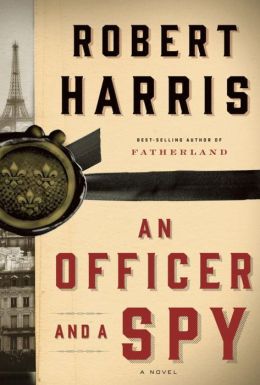 An Officer And A Spy
Robert Harris
Knopf Publishers
Hardcover
9780385349581
Robert Harris' latest book, An Officer And A Spy, is a fictional account of the Dreyfus Affair.  This is a thrilling historical novel that delves into the world of espionage, conspiracy, and corruption surrounding the persecution of an army officer for the sole reason he was Jewish. Although most people know of this historical tragic event, readers will be interested to find out how Harris has the story unfold. The focus is not so much on Dreyfus as it is on Colonel Georges Picquart.
The plot begins as Alfred Dreyfus, a Captain in the French Army, is paraded throughout the streets of Paris after being convicted of treason, and is imprisoned at the hellhole of Devil's Island.  Among the witnesses to Dreyfus' humiliation is Picquart who had a hand in his conviction by carrying a secret document that supposedly proved Dreyfus' guilt.  Because of his loyalty to his superiors during the trial Picquart is promoted to Colonel as he heads the counterespionage agency. While performing his duties Picquart stumbles upon information that leads him to change his mind from considering Dreyfus guilty to now believing in his innocence.  He is compelled to question not only the case against Dreyfus but also his most deeply held beliefs about his country, and about himself, especially since Dreyfus was convicted on the basis of secret evidence, in a closed court, in which neither Dreyfus nor his lawyer was able to view the evidence.
Realizing that the wrong man was convicted of espionage the Colonel goes on a quest to find justice.  Unfortunately, the conspirators included a high level of senior officers such as the Minister of War, the Chief of the General Staff, the former head of Military Intelligence, and the Commander of the Fourth Army. A powerful quote in the book explains Picquart's dilemma, "So this is what the Army of France has sunk to.  Either they are the greatest fools in Europe or the greatest villains:  for the sake of my country I am not sure which is worse.  But some instinct for self-preservation warns me not to fight them now."  The author is able to show the suspense and mystery involved as Picquart is accused of being a co-conspirator, is tried for treason, and also is imprisoned.  The cover-up became deeper, stranger, and more criminally psychotic.
An Officer And A Spy is a riveting account of the Dreyfus Affair from the perspective of the person who broke the case wide open, Picquart.  It is a legal thriller, an espionage story, and a crime novel all rolled into one.  The plot contrasts the different human characteristics of deceit, intimidation, ruthlessness, and anti-Semitism.  Anyone who wants to read a captivating book that involves blackmail, espionage, corruption, murder, and injustice should read this novel.
Elise Cooper