Tags
Related Posts
Share This
Andrew Vachss is featured in this week's giveaway
Crimespree magazine,  in conjunction with Friday Reads Facebook page,  is offering you a chance to win  a copies of SHOCK WAVE, MORTAL LOCK, and AFTERSHOCK by Andrew Vachss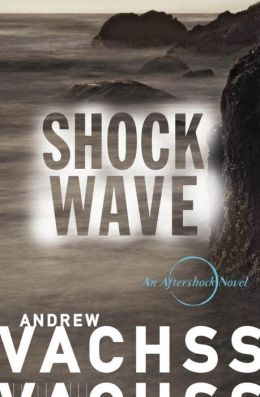 SHOCKWAVE
Dell, a former mercenary, and his wife, Dolly, a former battlefield nurse, believe they have finally found a place of peace in a deceptively idyllic small town on the Oregon coast.
But early one morning, just before daybreak, a body washes up on the town's pristine beach. The dead man's shaven skull has been torn open, and his upper body is covered with neo-Nazi tattoos. The police quickly pick up Homer, a "walking wounded" schizophrenic who has been showing off a wristwatch he says God just gave him-a watch engraved with a symbol that exactly matches one of the dead man's tattoos. Regardless of the fact that Homer could never have inflicted such damage on a man twice his weight and half his age, he is immediately arrested because the D.A. is desperate to close the case before it negatively affects tourism-the town's only industry. Mack, the director and sole employee of the local mental-health outreach program, is outraged but helpless. He confides in Dolly, who shares his outrage. But with her local connections and her husband's ruthless skills, Dolly is anything but helpless. As the search for the real killer pulls them deeper into the world of hate groups, Dell is forced to share some of his "dark arts" knowledge with Mack. Together they discover the treasonous fog of evil that hovers not only above their town but also above America itself.
With this latest installment in his new Aftershock series, Andrew Vachss reminds us once again-in his inimitable, visceral prose-that for some, peace comes at a very high price.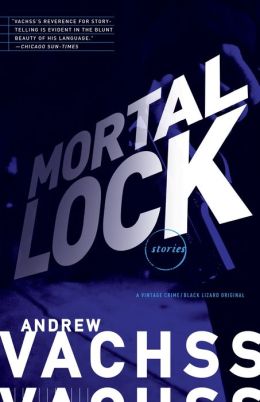 MORTAL LOCK
A hit man stalks his mark at a race track. A sociopath crosses every moral boundary to become a published author. An ex-mercenary obsessively defends his "perimeter" from a dangerous interloper. A man for hire grudgingly accepts help from a teenage girl to track an online predator. In a dystopian future, young people struggle for survival underground, forming themselves into vicious gangs with only the graffiti of the "last journalists" accepted as truth. Andrew Vachss collects twenty tight, powerful stories-all from the past decade of his career, including some now published for the first time-along with an original screenplay. Together, they form Mortal Lock, a searing portrait of the criminal underworld, with both its depravity and humanity on display.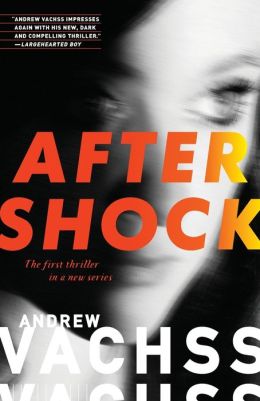 AFTERSHOCK
The idyllic facade of a small coastal tourist magnet hides its secrets well. But when the shining star pitcher of the girls' softball team guns down the most popular boy in school, the shockwaves reverberate far beyond the school's walls. In the wake of the killing, two of the town's newer residents turn over deeply embedded rocks, exposing a subculture of almost unimaginable horror lurking beneath.
Formerly a nurse with Médecins Sans Frontières, Dolly has become a defender and confidante to dozens of local teenage girls, and she refuses to accept that MaryLou ("Mighty Mary") McCoy's gunning down Cameron Taft in a high school hallway is a typical school shooting. Although MaryLou's guilt is not in doubt-it's even captured on the school's security camera-the girl insists on a trial…but inexplicably refuses to cooperate with her own defense. Enlisting her troupe of teenagers and the local contacts she has cemented, Dolly calls on all of her resources to get to the truth…and to whatever secret MaryLou is guarding.
When Dolly's husband, Dell, sees his beloved wife begin her quest, he immediately signs on. A former mercenary and ex-Legionnaire, Dell treats this "job" as he would any other-with no boundaries. His entire arsenal is put into play: guile, extortion, tracking devices, shadow networks, and, finally, an act of terrorism that blows the cover off the soul-killing rite of passage demanded of the town's most vulnerable girls. Dell's discovery of MaryLou's true motive and the community's shocking failure to protect its children culminates in a decision to put the town itself on trial. The explosive verdict blows away the facade…and forces the village to stand in judgment of itself. The aftershocks keep coming until the foundation itself fractures, leaving cracks too deep to patch ever again.
To be entered in the drawing shoot an email over to Jon?@crimespreemag.com (remove the question mark) And put CONTEST in the subject line. Also please put your address in the body of the email.
We will pick the winners on August 8th.
When we do the drawing we will be sending an extra something.