Tags
Related Posts
Share This
Anya Lipska and Charlie Huston
Crimespree Magazine,  in conjunction with Friday Reads Facebook page,  is giving away copies of Charlie Huston's SKINNER and Anya Lipska's WHERE THE DEVIL CAN'T GO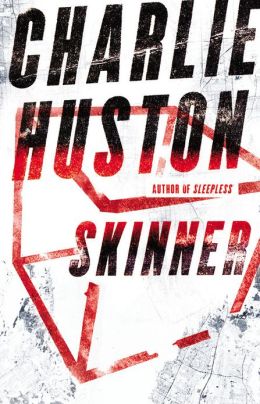 SKINNER by Charlie Huston
"The only true way to secure an asset is to ensure that the cost of acquiring it is greater than its value." –Skinner's First Maxim
Skinner founded his career in "asset protection" on fear. To touch anyone under his protection was to invite destruction. A savagely effective methodology, until Skinner's CIA handlers began to fear him as much as his enemies did and banished him to the hinterlands of the intelligence community.
Now, an ornate and evolving cyber-terrorist attack is about to end that long exile. His asset is Jae, a roboticist with a gift for seeing the underlying systems violently shaping a new era of global guerrilla warfare.
At the root of it all is a young boy, the innocent seed of a plot grown in the slums of Mumbai. Brought to flower, that plot will tip the balance of world power in a perilous new direction.
A combination of Le Carre spycraft with Stephenson techno-philosophy from the novelist hailed by the Washington Post as "the voice of twenty-first century crime fiction," SKINNER is Charlie Huston's masterpiece–a new kind of thriller for a new kind of world.
Charlie Huston is a writer who currently divides his workday between novels and TV. In addition to his new book Skinner, he is also the author of SLEEPLESS, the best seller THE SHOTGUN RULE, the Henry Thompson Trilogy, the Joe Pitt Casebooks, and several titles for Marvel Comics.
His TV projects have included an HBO pilot based on his own bestseller The Mystic Arts of Erasing All Signs of Death, executive produced and directed by Oscar™ winner and True Blood creator Alan Ball; Out From Under, an un-produced action cop show developed for FOX with former 24 executive producer Evan Katz and Taken director Pierre Morel; Furlough, an original detective pilot with Justified executive producer Michael Dinner set to direct; an untitled original science fiction pilot currently being developed for FX, and a new pilot script for the long gestating FX series based on the legendary independent comic book series Powers, created by Brian Michael Bendis and Michael Avon Oeming. Also on deck is Rosalind, the followup book to Skinner, an espionage noir set in Los Angeles and along the Baja peninsula. He lives with his family in Los Angeles.
WHERE THE DEVIL CAN'T GO by Anya Lipska
A naked girl is washed up on London's Thames foreshore, the only clue to her identity a heart-shaped tattoo encircling two names. The sixteenth dead body recovered from the river in 2009, she is dubbed db16 by police. But who is db16? And why did she die..?
Life's already complicated enough for Janusz Kiszka, unofficial fixer to East London's Polish community. His priest is nagging him to find a missing waitress, a builder on the Olympics site owes him a pile of money, and he's falling for the married Kasia, Soho's most straitlaced stripper. What starts out as a routine missing persons job soon sees Janusz threatened by drug dealing gangsters and accused of murder by DC Natalie Kershaw, an ambitious young female detective investigating the death of db16.
Janusz's search for answers takes him on a reluctant visit home to the mist-wreathed port of Gdansk, the site of traumatic memories from the Soviet era. There, in the cellar of a former secret policeman, he uncovers evidence of a decades-old betrayal – and a conspiracy that will reach its chilling denouement in a derelict warehouse in London's Docklands.
An enjoyable mix of classic detective murder mystery and intelligent political thriller, 'Where the Devil Can't Go' keeps the plot twists coming and the pages turning. Lipska's portrait of contemporary London has been compared to Ian Rankin's Edinburgh, and her hero Kiszka, the shovel-fisted yet honourable private investigator is destined to become a crime readers' favourite.
Anya Lipska is married to a Pole who lived under Communism before coming to Britain in the early Eighties. "I could dimly recall seeing newsreel footage of men with Solidarnosc banners at dockyard gates," says Anya. "But his first-hand experience of living relatively recently under a repressive regime fascinated me. It was this that inspired me to write my first novel which, although rooted firmly in contemporary London has a plot that harks back to Poland's Solidarity era. It took me about a year to research it alongside the day job."
Originally trained as a journalist, Anya now writes and produces documentaries and drama documentaries. She has worked on an eclectic range of programmes from Panorama to Scrapheap Challenge, with a rich mix of subject matter, from Leonardo da Vinci to plane crashes, paleo-anthropology to Italian gardens with Monty Don. "I consider myself incredibly lucky to have such an interesting job," says Anya, 'It keeps me buzzing with ideas that I can work into my fiction. Having said that, there's nothing better than getting a few weeks off to write. I always look forward to the research phase of a novel, but nothing matches the excitement of creating characters and weaving plot."
Anya's first book "Where the Devil Can't Go" is being published in Germany (in German) by Random House. It is independently published as an ebook in the UK where it has won many plaudits. Lipska is a pen name since, as Anya says "My real surname is impossible to pronounce…"
To be entered in the drawing shoot an email over to Jon?@crimespreemag.com (remove the question mark) And put CONTEST in the subject line. Also please put your address in the body of the email.
We will pick the winners on November 29th.
When we do the drawing we will be sending an extra something for one lucky winner to be picked from the comments section of the Friday Reads face book page, so after you enter, go leave a comment!