Tags
Related Posts
Share This
April 9th, this weeks comics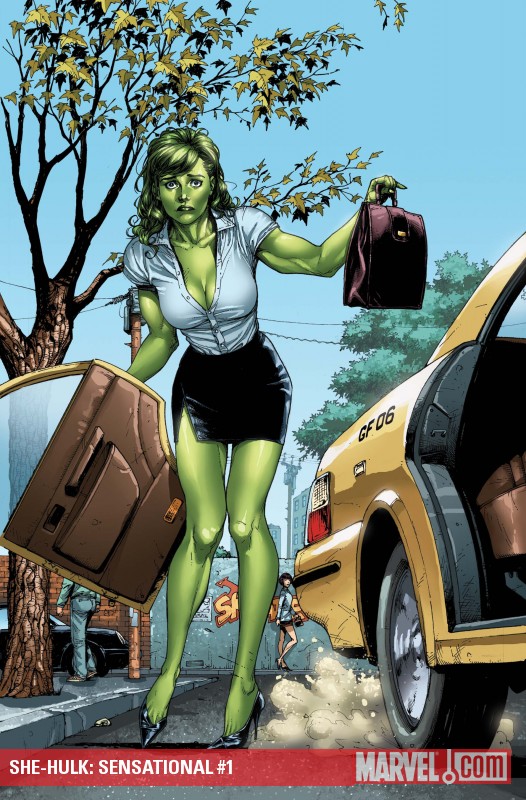 I didn't come home with a big stack this week but there was some fun reading.
She Hulk Sensational is a 30th anniversary issue one shot from marvel. Like most of the bigger Marvel books they included a reprint which might be part of the higher price tag. The first story is a take on A Christmas Tale by Peter David. A fun little story looking back and forward at her life, but basically a format for oue giant green heroine to shoot off some wacky lines.
The second story is Jennifer teaming up with Ms. Marvel and Spider Woman. Confusion leads to the girls fighting and then teaming up against hydra.
The reprint is a John Byrne classic from #40 of his run. The story is kinda crazy but the art is nice.
From over at Image we have Invincible Returns #1, which has our young hero reflecting and gearing up for a big fight. It's a nice issue and I enjoy the non action stuff in this book. I love the art by Ryan Ottley, I think the guy is a genius. The back up story art by Cory Walker just felt a little off to me, not bad, just not right here. He portrays Eve a bit to soft and rounded. Still, the writing through out is good and if you are a fan of the series you'll be happy with this.
The Boys #41. Ohhh Garth…. What are you doing Mr. Ennis? I see all this for shadowing and I worry for my boy Wee Hughie. On the other hand this group of lame heroes, Super Duper made me wet my pants laughing!
I love this series!
Red Robin # 11 was really fun, things are heating up in Gotham and TIm is trying to fend off the League of Assassins. Targets have been made of all his associates and he needs to fight back and keep them safe. Loads of action and damn cool story from Chris Yost. I also really like Marcus To on the art.

Doom Patrol #9
was another really entertaining read. It seems like this book just doesn't get any love except back when it was a Vertigo title. Well, some of those characters are back, Danny the Street, and Jane are a big part of this latest crazy tale from Giffen.
Batman and Robin #11
. Well, I've yet to read a bad Batman story by Grant Morrison and the streak continues. Our new Robin is having some problems caused by Mom, and Dick is uncovering parts of the batcave he never knew existed.Lots of action and loads of clues leading up to something big. And a great surprise badguy at the end!
Geoff Johns on flash is always a treat. In Secret Files and Origins we don't get a re hash of the beginnings again, we are getting a set up for Barry Allan's new role in the DC universe. The Rogues are getting ready, the other Flash heroes are geared up and after reading this, so am I.

JSA Allstars #5 has had a story line building up to a big battle and its coming next issue. Johnny Sorrow and the King of Tears are going to give the team a hell of a fight. We have a new hero, Anna Fortune who is a steam punk looking magic user, I like her. Stargirl and Atom Smasher are off in another dimension hoping for a rescue and falling in love. Loads going on here. My favorite part? The art by Freddie Williams II. It is a beautiful book.
I should have some trade reviews up in the few days. I have a pile building up on the desk and I'm almost caught up enough to get to them and do the reviews.