Tags
Related Posts
Share This
Author Workspace: Stephen Booth

I tend to think my workspace is pretty boring. But that's the way I like it! I work in a former stable block, which I had converted into an office when we bought our present property about four years ago. This means I do actually leave the house to go to work – though I only have to walk a few yards, and I've never been delayed by traffic. Inside, some of the original beams have been retained, and in the roof space we left an 'owl hole' for the birds. Swallows nest in the adjoining stable, and the young ones often bang into my window while they're learning to fly. We live in the heart of rural England, so that's about as busy as it gets!
Inside, I have a long L-shaped desk which I couldn't fit into one photo. It runs most of the length of two walls, so I guess it must stretch to about 18 feet in total. That might sound a lot, but it's usually completely covered in paper, books, files, and masses of other debris. I did a photo shoot recently for my old college, which is why it's looking a bit tidier than usual at the moment!
The window looks out onto our garden, with a view of the rolling, green Nottinghamshire countryside. I tend to spend quite a bit of time gazing out of the window during the day (I call it creative thinking time). I do most of my writing in the evening. I can't see the wildlife then, but I can still hear it. Trust me, the night-time screams of badgers fighting over territory can be blood curdling!
When I'm writing, I work in the corner of the 'L'. To my left, there's a line of reference books and my invaluable Ordnance Survey maps of the Peak District, which I have to replace at regular intervals because they're so well-used. I always have an open exercise book, which I use for jotting down notes. There are a couple of five-year diaries, a year planner, and a folder full of papers for the next board meeting of a regional writer development agency, where I'm a trustee. You might notice there's also a proof copy of Ian Rankin's next novel 'Even Dogs in the Wild', since I'm currently writing an introduction for a special collector's edition.
I work on a desktop computer with quite a large screen. I know a lot of writers use laptops, but when I'm writing for long periods I find a laptop keyboard and screen are too small for me, and at the wrong angle. Despite the size of the screen, I still need the pair of 'computer glasses' near the notebook.
To the right is my landline phone, which I never answer (even to my agent). There's an iPhone just hidden by my chair, along with a couple of bottles of water, a CD player, and headphones. I sometimes listen to music when I'm working. Occasionally a song just fits with the theme of a book I'm writing and can end up in the story.
The second photo shows a bookshelf by the door to my office. There's lots of stuff about the Peak District, some books on forensics and police procedure, a few recent fiction reads, and all my old notebooks from the last 15 years of writing the Cooper and Fry series.
My office was broken into earlier this year. I laughed when I realised the first thing the thieves would have seen when they came in was a book called 'Crime Scene Investigation' which I'd left by the door. The real-life crime scene examiner from Nottinghamshire Police thought I'd left it out to teach him his job.
I think it's noticeable that there isn't a single one of my own books on display anywhere in my office. The photographer from my old college complained about this and made me unpack a box of my latest hardcover 'The Murder Road' to place in a prominent position. I suppose admiring a pile of your own books makes a writer look suitably self-obsessed!
Stephen Booth
A newspaper and magazine journalist for over 25 years, Stephen Booth was born in the English Pennine mill town of Burnley. He was brought up on the Lancashire coast at Blackpool, where he attended Arnold School. He began his career in journalism by editing his school magazine, and wrote his first novel at the age of 12.

In 2000, Stephen's first published novel, Black Dog, marked the arrival in print of his best known creations – two young Derbyshire police detectives, DC Ben Cooper and DS Diane Fry. Black Dog was the named by the London Evening Standard as one of the six best crime novels of the year – the only book on their list written by a British author. In the USA, it won the Barry Award for Best British Crime Novel and was nominated for an Anthony Award for Best First Mystery. The second Cooper & Fry novel, Dancing with the Virgins, was shortlisted for the UK's top crime writing award, the Gold Dagger, and went on to win Stephen a Barry Award for the second year running.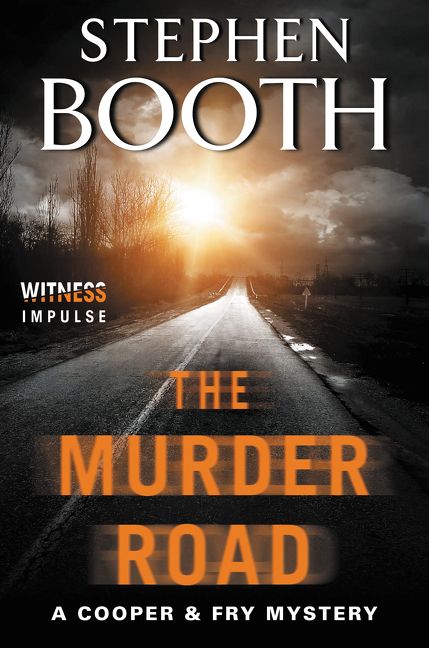 All the books are set in England's beautiful and atmospheric Peak District. At the end of 2006, the Peak District National Park Authority featured locations from the Cooper & Fry series in their new Peak Experience visitors' guides, recognizing the interest in the area inspired by the books.
Stephen left journalism in 2001 to write novels full time. He and his wife Lesley live in a village in rural Nottinghamshire, England (home of Robin Hood and the Pilgrim Fathers). They have three cats.