Tags
Related Posts
Share This
BATMAN: THE DARK KNIGHT RETURNS PART TWO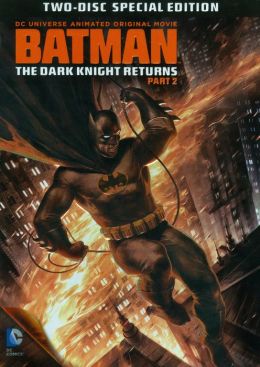 Warner Home Video
Release date: January 29, 2013
MSRP: $24.98
Starring the voices of Peter Weller, Ariel Winter, David Selby, Michael Emerson, Mark Valley.
Written by Bob Goodman, based on the graphic novel by Frank Miller and Klaus Janson
Directed by Jay Oliva
Part One ended with Batman (Weller) defeating the leader of the Mutants gang, restoring order in Gotham, but that order is short-lived. Part Two opens with Jim Gordon (Selby) retiring and the new police commissioner calling for Batman's arrest. The President of the United States also orders Superman (Valley) to bring Batman under control.
As if that weren't enough, Batman has to contend with The Joker (Emerson), who, upon his release from a psychiatric hospital, appears on a talk show to prove his rehabilitation — but proceeds to kill his doctor, the host, and the entire audience.
My review of Part 1 mentioned that it seemed the greatest threats were yet to come, but Part 2 is half Batman breathlessly chasing the Joker, half his epic battle with Superman. There's almost no time for the context that made Part 1 resonate. But then, the two parts shouldn't be separated, should they?
Part 2 is good for the shock value of Joker's body count and of how far the world descends into chaos — including a nuclear detonation. It's definitely the most violent DC animated feature I've seen. I don't know that one can go as over-the-top as Miller does and plausibly restore some kind of order. That's nothing against the movie, which follows the source material faithfully.
Part 2's bonuses are highlighted by featurettes on Batman vs. Superman over the years, The Joker, and a preview of the next DC animated movie, Superman Unbound.
— Gerald So