Tags
Related Posts
Share This
Behind the (audio) Book: Becky Masterson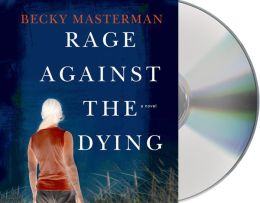 Becky Masterson's RAGE AGAINST THE DYING came out from MacMillan audio on March 12th.
From MacMillan Audio about the book:
"Keeping secrets, telling lies, they require the same skill. Both become a habit, almost an addiction, that's hard to break even with the people closest to you, out of the business. For example, they say never trust a woman who tells you her age; if she can't keep that secret, she can't keep yours. I'm 59."
You have never met an (ex) FBI agent like Brigid Quinn Brigid's career – the disappearance and presumed murder of her young protégée, Jessica. Floyd knows things about that terrible night that were never made public, and offers to lead the cops to Jessica's body in return for a plea bargain. It should finally be the end of a dark chapter in Brigid's life. Except…the new FBI agent on the case, Laura Coleman, thinks the confession is fake, and Brigid finds she cannot walk away from violence and retribution after all, no matter what the cost.
Thank goodness for modern technology. When I heard that Judy Kaye, two-time Tony award winning actress, had agreed to read Rage Against the Dying for Macmillan audio books, I only had to go to youtube to see and hear her give her acceptance speech at the awards ceremony for her role in "Nice Work If You Can Get It." She was perfect, her voice a little low and a little husky, good for a tough-talking retired FBI agent.
When I walked into the recording studio last October and unexpectedly heard her reading Brigid Quinn's first person narrative, I burst into tears. My editor from St. Martin's said, "Do you hate it?" I said, "I love it! It's just that for years, until this moment, I've only heard Brigid's voice inside my head." I was further amazed that evening, after she had been recording all day, to attend her performance and hear her hit those high notes.
But the best thing happened after I got the packaged recording from Macmillan. You see, ever since my husband and I retired out here to the high desert of Arizona he has been walking three and a half miles every day, rain and shine–though as you can imagine, not that much rain. To make the walk go faster he listens to audio books. I had told him right from the start, "Fred! Fred! Judy Kaye is going to read my book!" But I don't think he was paying close attention, because when he picked up the package last week he said, "Oh my god, Judy Kaye is the narrator." "I told you that," I said. He said, "I loved Judy Kaye doing Sue Grafton's books. I've looked for what else she might have done because I like the way she narrates so much." He agrees, she's perfect for the role.
I hope Ms Kaye reads this so she'll know how much she means to me and how grateful I am for her narrating this new author.