Tags
Related Posts
Share This
Bill Loehfilm & T. Jefferson Parker are featured in this week's Giveaway.
This week features are of my favorites!  Crimespree magazine,  in conjunction with Friday Reads Facebook page,  is giving away copies of Bill Loehfelm's THE DEVIL IN HER WAY and T. Jefferson Parker's THE FAMOUS AND THE DEAD
THE DEVIL IN HER WAY by Bill Loehfelm
On the streets of New Orleans, one woman sees what no one else does
When small, tough Maureen Coughlin first appeared in The Devil She Knows (Sarah Crichton Books, 2011), the New Orleans Times-Picayune called her "the character of the year" and Booklist found her to be "as compelling a character as this reviewer expects to see this year."
Now Maureen is back in The Devil in Her Way, Bill Loehfelm's new thriller, and her life has taken an unexpected turn: She has moved to New Orleans and joined, of all things, the police force. Her first day on patrol, Maureen finds herself brutally punched, seemingly for no reason, by a beanpole of a black man bursting out of an apartment building. Her training officer laughs it off, and the incident even yields a small victory: The cops recover two pounds of weed and three guns in a shoe box. But as she watches the street, Maureen sees something transpire between two boys that leaves her shaken, and she's sure that there's more to this story than it seems.
Loehfelm is the real deal—a thriller writer every inch as good as Dennis Lehane, John Lescroart, and Michael Connolly. Like those greats, he knows the voice of his city; he has a complex understanding of the communities he writes about, a wonderfully flawed protagonist, and a seemingly endless supply of good stories to tell. In The Devil in Her Way, his talents are on display like never before, and the result is a thriller whose pages practically turn themselves.
Bill is the author of four novels, most recently his first New Orleans-set novel, THE DEVIL IN HER WAY, the next in the Maureen Coughlin series, released April 30 from Sarah Crichton Books/FSG. Also, THE DEVIL SHE KNOWS (2011), which featured Maureen's debut, BLOODROOT (2009), and FRESH KILLS (2008), winner of the first Amazon Breakthrough Novel Award. Bill's first three novels are set in Staten Island, NYC, where he grew up.
Born in Park Slope, Bill grew up in Brooklyn and on Staten Island. After college in Scranton, PA, where he studied communications and English, he taught high school English on Staten Island. In 1997, he moved to New Orleans, where he has taught high school and college, worked in an antique shop, and done absolutely everything there is to do in the bar and restaurant business (except cook). He received his MA from the University of New Orleans in 2005. He plays drums in the Ibervillains, a rock and soul cover band.
Bill lives in New Orleans' Garden District with his wife, AC Lambeth, a writer and yoga instructor, and their two dogs.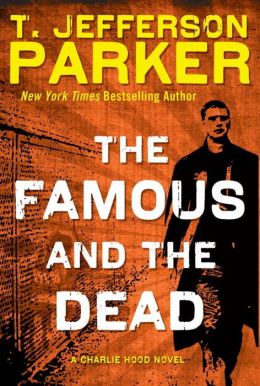 THE FAMOUS AND THE DEAD by T. Jefferson Parker
The explosive conclusion to T. Jefferson Parker's New York Times bestselling Charlie Hood series
Los Angeles County sheriff 's deputy Charlie Hood is attached to the ATF, working undercover on the iron river that flows across the U.S.-Mexican border. The diamond fillings he wears in his left canine glimmer, distracting the men who sell the illegal firearms that enable the unspeakable violence on both sides of the map. Spotting the sparkle when "Charlie Diamonds" opens his mouth is often their first step toward life behind bars.
Meanwhile, Bradley Jones, sheriff 's deputy and employee of the Baja Cartel, son of the love of Charlie's life, the deceased L.A. outlaw Suzanne Jones, is expecting a son of his own. Suzanne was descended from famed Mexican desperado Joaquin Murrieta, whose embalmed head Bradley inherited from her and keeps nestled among piles of cash, proceeds from Bradley's own life of crime.
Charlie knows all of Bradley's secrets; the question is what he'll do with the information. Until he decides, his obsession remains the inexplicable existence of Mike Finnegan, the diminutive devil who flits in and out of both men's lives, knowing things he shouldn't, seemingly immortal. 
Three men: earnest law-enforcer, inveterate lawbreaker, and the man who pits them against each other—hurtle toward one another in the jaw-dropping conclusion to T. Jefferson Parker's mesmerizing vision of the border. Their climactic showdown brings to a spectacular close a crime series that obliterated the boundaries of the genre.
One of the best loved crime writers of our time, T. Jefferson Parker was born in Los Angeles and has lived all of his life in Southern California. The poster boy for Orange County, he enjoyed an almost idyllic childhood bodysurfing, playing in Little League, and enjoying family outings with his parents and siblings. He was educated in public schools in Orange County and received his bachelor's degree in English from the University of California, Irvine, in 1976. (He was honored in 1992 as the University's Distinguished Alumnus.)
His writing career began in 1978 as a cub reporter on the weekly newspaper, The Newport Ensign. After covering crime, city hall, and local culture for the Ensign, Parker moved on to the Daily Pilot newspaper, where he won three Orange County Press Club awards for his articles. During this time, he filed away information he would later use to develop characters and plot points for his novels.
Published in 1985, Parker's first book, Laguna Heat, was written in whatever spare time he could find during his stint as a reporter. The book received rave reviews and was made into an HBO movie starring Harry Hamlin, Jason Robards and Rip Torn. In 2001, he hit the jackpot with Silent Joe, a bittersweet thriller that won the Mystery Writers of America's coveted Edgar Award for Best Novel. In 2004, he repeated the feat with Califoria Girl, making him one of only two writers (the other is James Lee Burke) ever to have won two Best Novel Edgars.
To be entered in the drawing shoot an email over to Jon?@crimespreemag.com (remove the question mark) And put CONTEST in the subject line. Also please put your address in the body of the email
We will pick the winners on June 28th.
When we do the drawing we will be sending an extra something for one lucky winner to be picked from the comments section of the Friday Reads face book page, so after you enter, go leave a comment!