Tags
Related Posts
Share This
BLACK LIGHT by Patrick Melton, Marcus Dunstan and Stephen Romano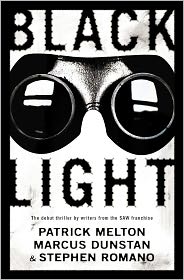 Mulholland Books
Release date: October 5, 2011
Buck Carlsbad had a difficult childhood. His parents were exorcists and while on a job in the desert, they all were killed. Except, Buck came back – and he came back with a certain gift. He can, I guess you could say, suck evil souls/ghosts right into his stomach and hold them there until he can regurgitate them into silver urns where they can be safely stored and can't hurt anybody. However, every time Buck does this, it takes years off of his life and he goes into the Black Light. The Black Light is what allows him to deal with the ghosts and see things that no one else can.
Buck Carlsbad is one of the most broken down protagonists I've encountered in a long time. He goes after the most difficult ghosts and spirits for a living, and is feeling that he is nearing the end of his rope. I mean, the story takes place in 2012 and he still walks around wearing a Walkman – yes, a walkman – listening to bands like Motley Crue, just to keep the bad shit in his head at bay. Buck also has a burning desire to find out what exactly happened in that area of desert where his parents were killed and his life was changed forever.
Now there is a millionaire who has built a super train from Los Angeles to Las Vegas. The train can reach speeds of 600mph and is supposed to make the world a better place. The only problem is that this super train runs directly through the area where Buck's parents were killed. This area is a sort of Bermuda Triangle, riddled with bad shit that almost killed Buck for a second time, the last time he went searching for answers. The millionaire knows there are potential problems with the area and knows he needs to protect his investment, so he seeks Buck out for his supernatural abilities. Knowing this could be his chance to make things right, Buck takes the opportunity. This kicks the second half of the story into high gear, and when that happens – you'll need to hold on.
Black Light has a strange pedigree. Two of the authors wrote a few of the Saw films, and the other wrote for Showtime's Masters of Horror TV series. At first, I was skeptical because of the connection to the Saw film franchise. I hated, absolutely hated, the first film and never even bothered with the sequels. As for Masters of Horror, it's on Showtime and I'm an HBO person through and through. I also couldn't help but wonder how three people could write a novel together. I'll ask them, if I ever get the chance.
I'm glad I read Black Light. I only have issue with it, which is that I feel there could have been a lot more character development. At times I was left wanting to know more about the people I'm reading about, and I am still trying to decide whether I care about them or not.
I'm not going to give away the ending of course, but I felt like it was a little loose. I'm hoping for a sequel, but ultimately Black Light is very much worth reading. I can honestly say it's different from anything else I've read in a while. I mentioned it before, and I feel the need to say it again: the second half was incredible and if done right, Black Light would make an incredible film.
Dave Wahlman