Tags
Related Posts
Share This
Blake, Hamilton are featured in this week's giveaway
Crimespree magazine, in conjunction with Friday Reads Facebook page, is offering you a chance to win copies of THE HOUSE OF WOLFE by James Carlos Blake and PAST CRIMES by Glen Erik Hamilton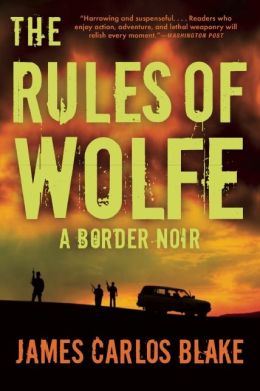 THE HOUSE OF WOLFE
On a rainy winter night in Mexico City, a ten-member wedding party is kidnapped in front of the groom's family mansion. The perpetrator is a small-time gangster named El Galán, who wants nothing more than to make his crew part of a major cartel and hopes that this crime will be his big break. He sets the wedding party's ransom at five million US dollars, to be paid in cash within 24 hours.
The only captive not related to either the bride or the groom is the young Jessica Juliet Wolfe, a bridesmaid and close friend of the bride. Jessie hails from a family of notorious outlaws that has branches on both sides of the border, and when the Wolfes learn of Jessie's abduction, they fear that the kidnappers will kill the captives after receiving the ransom—unless they rescue Jessie first.
Gritty and exhilarating, The House of Wolfe takes readers on a wild ride from Mexico City's opulent neighborhoods to its frenetic downtown streets and feral shantytowns, as El Galán proves how dangerous it is to underestimate an ambitious criminal, and Jessie's blood kin desperately try to find her before it's too late.
About the author:
James Carlos Blake  is an American author whose works, novellas, short stories, and essays have received numerous awards, including Los Angeles Times Book Prize, Southwest Book Award, Quarterly West Novella Prize, and Chautauqua South Book Award. He has been called "one of the greatest chroniclers of the mythical American outlaw life" as well as "one of the most original writers in America today and … certainly one of the bravest." He is a recipient of the University of South Florida's Distinguished Humanities Alumnus Award and a member of the Texas Institute of Letters.
PAST CRIMES
When his estranged grandfather is shot and left for dead, an Army Ranger must plunge into the criminal underworld of his youth to find a murderer and uncover a shocking family secret in this atmospheric and evocative debut thriller 
Van Shaw was raised to be a thief, but at eighteen he suddenly broke all ties to that life and joined the military—abandoning his illicit past and the career-criminal grandfather who taught him the trade. Now, after ten years of silence, his grandfather has asked him to come home to Seattle. But when Van arrives, he discovers his grandfather bleeding out on the floor from a gunshot to the head. With a lifetime of tough history between him and the old man, Van knows he's the main suspect.
The only way he can clear his name is to go back to the world he'd sworn to leave behind. Tapping into his criminal skills, he begins to hunt the shooter and uncover what drove his grandfather to reach out after so long. But in a violent, high-stakes world where right and wrong aren't defined by the law, Van finds that the past is all too present . . . and that the secrets held by those closest to him are the deadliest of all.
Edgy and suspenseful, rich with emotional resonance, gritty action, and a deep-rooted sense of place, Past Crimes trumpets the arrival of a powerful talent in the mold of Dennis Lehane, Robert B. Parker, and John D. MacDonald.
 About the author:
A native of Seattle, Glen Erik Hamilton grew up aboard a sailboat, and spent his youth finding trouble around the marinas and commercial docks and islands of the Pacific Northwest. He now lives in California with his family, punctuated by frequent visits to his hometown to soak up the rain.

To be entered in the drawing shoot an email over to Jon?@crimespreemag.com (remove the question mark) And put CONTEST in the subject line. Also please put your address in the body of the email.
We will pick the winners on March 13th.