Tags
Related Posts
Share This
BLOOD INFERNAL by Rollins and Cantrell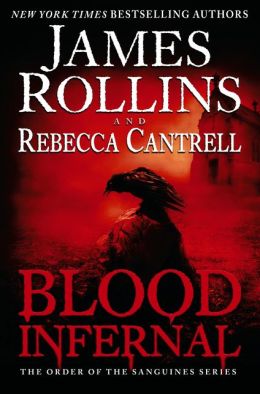 BLOOD INFERNAL:
Order of the Sanguines Series, #3
James Rollins & Rebecca Cantrell
Feb. 10th, 2015
William Morrow
BLOOD INFERNAL, the third installment, by James Rollins and Rebecca Cantrell, is an amazing finale to the Sanguines series. It combines what Rollins is known for and does so well, his ability to intermix an adventure story with religion and history, with a dose of a love story and a supernatural mystery.
The story takes off from the very first page. The series heroes return: The Knight of Christ, Rhun Korza; The Warrior of Man, Jordan Stone; and the Woman of Learning, Erin Granger, along with the person able to connect key information, Countess Elizabeth. They travel throughout Europe on a quest to save mankind, while keeping the "Gates of Hell" locked. With the Apocalypse looming the protagonists must battle a demon named Legion, and face the devil himself, Lucifer. This fight of good versus evil includes philosophical questions about salvation, lost innocence, and damnation. All the pieces come together in this riveting thriller where the heroes must survive horrific battles, betrayals, and grueling tests of perseverance.
The characters are exciting and captivating. They are well developed, dynamic, and realistic in that readers forget they are vampires. Countess Elizabeth has a fantastic and intriguing personality that has grown throughout the three books. At times she is described as bad but a more accurate description would be she is a bad a_ _. She is one of those who will tell it like it is and is not afraid to hold back. Her actions always seem to have some reason behind it such has her desire to protect those she loves. She is very confident in her own resolve, her personal right and wrong.
Elizabeth is contrasted well with the head of the Sanguines, Cardinal Bernard. While she appears to have no faith, not believing in God, he justifies what he does in the name of religion and is shown to be a huge hypocrite. He is good at identifying and condemning others while ignoring his own sins. Another excellent contrast is science versus religion, which is seen through the eyes of archeologist Dr. Erin Granger. Being a scientist she must try to balance that with faith and morality, weighing the tangible evidence and facts of science with the miracles of religion. The storyline wonderfully shows how there is this mixture of gray area, where no belief is concrete.
Blood Infernal has a wonderful and thrilling plot. The sad part is that this is the last book in the series for now. The authors skillfully combine historical elements of Christianity, science, and love into a wonderful story that is action packed and will tug at the reader's emotions. It is a must read for anyone who wants to be glued to a book.
Elise Cooper