Tags
Related Posts
Share This
Blu-ray Review: CHARADE – The Criterion Collection.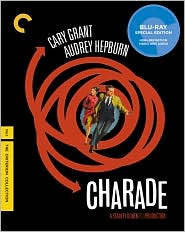 Criterion Collection
Release date: Sept 21st. 2010
MSRP: $39.95
Director: Stanley Donen
Stars: Cary Grant, Audrey Hepburn, Walter Matthau, James Coburn, Ned Glass and George Kennedy
Had Cary Grant or Audrey Hepburn had plans for world domination, they likely would have had only to offer up a smile and a few nice words and all would have been putty in their hands. These two each had a certain charm that almost seemed magical.
So a film that stars BOTH of them would be noteworthy if only for that one reason. But CHARADE is noteworthy for a whole lot more. It manages to be suspenseful, fun and romantic without missing a beat. Add to that a solid supporting cast and you have a classic.
Audrey stars as Regina Lampert, a lady that finds our that her husband has sold all of their stuff and gotten himself killed (tossed off of a train). The money that he got for their stuff (250k) is nowhere to be found. She quickly finds herself being greeted by three criminals ( James Coburn, Ned Glass and George Kennedy), a CIA agent (Walter Matthau) and Cary Grant's Peter. Regina never knows who to trust and, despite some suspicions, finds herself allied with Peter.
As the film goes on, the gentleman are killed off until only Peter and Matthau's Bartholomew are left. Each does their best to discredit the other, telling Regina that she should trust him and not the only guy.
I mentioned before that both Grant and Hepburn had incredible charisma, the pairing of the two is something special. Grant was concerned about the age difference between the two (Grant being decades older) and made sure that not only was the age difference noted, but some jokes be made about it. It certainly helps make it more believable and thus more enjoyable.
CHARADE does a hell of a job mixing things up. As I said, it is romantic, funny and darkly suspenseful as times. Attempts at this kind of combination often result in a messy film, but director Stanley Donen does an excellent job of making all of it gel. CHARADE is a true classic and you would have to have a heart of stone not to smile at the banter between the two.
Video:
Criterion delivers a new HD digital transfer in 1080p with a ratio of 1.85:1. The result is a lovely picture. Even if this was not in HD, I suspect it would look great. The colors are great and the details very clear. This is something I really enjoy in older films, as it allows me to enjoy the distinct clothing styles of the era. This is the best copy of this film I have ever seen.
Audio:
The sound is very clean, with no hiss or crackle at all. The soundtrack really only contains music and dialogue, but both sound good.
Extras:
We get a very interesting commentary track featuring Donen as well as screenwriter Peter Stone. The two work well together, offering interesting tidbits about the filming as well as some fun banter.
In addition, we get the original trailer.
I really can't stress just how nice this edition is. While we are not bombarded with extras, the transfer is everything one could hope for. Add to that the fact this is a truly great film and you have a release that is a must have for any Blu-ray owner.
Jeremy Lynch