Tags
Related Posts
Share This
DEXTER The Fifth Season Blu-ray/DVD Review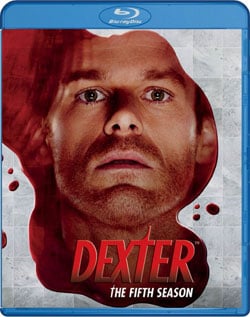 Paramount Home Entertainment
Release date: Aug 16, 2011
MSRP: $64.99
Over the course of the last couple of seasons, I started to lose interest in DEXTER. Each season had a familiar theme: Dexter meets somebody like himself, he forms a bond of sorts and ultimately kills them when their dark passenger proves to be in control. For me, this has resulted in a lack of emotional investment. Each time I see Dexter bond with somebody, I know they are doomed.
While season five once again finds Dexter connecting with a lost soul, but they smartly take a different path. Julia Stiles plays Lumen, a young lady that was captured, and tortured, but this season's McBaddies. A crew of men get their kicks by torturing and raping young blondes. This is complicated by the fact that part of this crew is a very wealthy businessman with the resources to keep things quiet.
Dexter comes across Lumen as he is taking out one of the group. It leaves him with a very tough choice: He is only to kill the guilty, but rule #1 is Don't get caught! Dexter opts to let her live and the two form a bond. She wants revenge, plain and simple. She wants to take out each of the men that brutalized her. Dexter helps her hunt them down, but he also helps her control the darkness inside of her and keep from making the kinds of mistakes that might get her discovered or killed.
Looking back over the years, the show has become more and more uneven with each season. No matter what, it has moments of brilliance. John Lithgow was amazing last year and the early eps with Jimmy Smits were fascinating. But each of those seasons followed a formula and had secondary plots that got clunky. And as interesting as the ghost-like Harry scenes were, it is time to discard them. They no longer play a relevant role and are more of a distraction than anything else.
But the relationship between Lumen and Dexter is an exceptional one and their story makes season five worth watching. For all of the weak points, the season is an overall success.
Video: 
Season five is presented with a 1.78:1 ratio in 1080p with an AVC MPEG-4 encoding. As with previous seasons, the lush Miami backdrop is gorgeously presented. The colors are great, very crisp. The blood also really stands out so you might not want to watch while eating.
Audio:
The audio is offered up in 5.1 Dolby TrueHD. The most notable aspect is the moody background music. The mix between said music and the dialogue is very well done.
If you have stuck with DEXTER through the weak times, you will certainly enjoy season five. Julia Stiles does a fabulous job with Lumen and ultimately, it is her character that makes this season so good.
Jeremy Lynch