Tags
Related Posts
Share This
Blu-ray Review: PIRATES OF THE CARIBBEAN: On Stranger Tides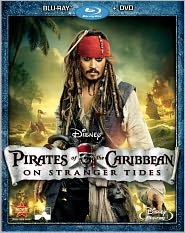 Buena Vista Home Entertainment
Release date: Nov 15, 2011
MSRP: $39.99
Director: Rob Marshall
Stars: Johnny Depp, Ian McShane, Penélope Cruz, Geoffrey Rush
Jack Sparrow once had "stirrings". The latest of this Disney franchise continues to entertain with its swash-buckling ways. When someone is impersonating Jack and obviously looking for Ponce de Leon's Fountain of Youth he sets a trap. Ah, but it be "the Lady of Seville", and she, the daughter of Blackbeard. Blackbeard is dying and our fair maid intends to exact revenge upon Jack and save her father's life all at the same time.
There are mermaids and ships in a bottle, and treasure and well, Johnny Depp supported by Penelope Cruz and Ian McShane. Great good fun this is.
Full of all the extras you'd expect on a Disney Blu-ray I highly recommend this film as family viewing.
Some of the extras include Bloopers and some Lego animated shorts based on the series of movies.
Ruth