Tags
Related Posts
Share This
Blu-ray Review: PRIEST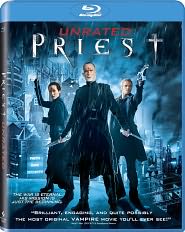 Sony Pictures Home Entertainment
Release date: Aug 16, 2011
MSRP: $35.99
Upon watching PRIEST, I got the impression that this might have been based on a video game. Truth be told, I kind of got the impression that I might have been watching a video game.
Scott Stewart reteams with Paul Bettany (they previously worked on LEGION) in a film about a holy warrior that does battle with an evil horde of vampires in the desert. Priest is actually very similar to Legion except that we have vampires instead of pissed off angels.
The most positive thing I can say about Priest is that, like a good video game, it has some cool fight scenes. The story and script are as basic as it gets.Bettany seems to know he is in a turkey of a film and looks as though he is focused on simply getting through the filming the same way a janiter (Sorry, sanitation engineer) focuses up cleaning up afer a classroom of 3rd graders that came down with food poisoning right after lunch.
Video: PRIEST looks great. Because the overall look of the film is a dark one with lots of shadowy landscapes, the black levels are important to the film and they look great. The colors are also good, but they take a backseat to the blacks and greys. The film is presented in 1080 with a ration of 2.40:1.
Audio: With the 5.1 DTS-HD sound mix, you will feel the rumble of the explosions, hear the roar of motoycycles and the sreams of the unlucky fools that get in Paul Bettany's way. English, English SDH, French, and Spanish subtitles are offered.
I have no doubt that some will disgree with me, but PRIEST is a dreary affair in which the vampires are not the only things with no soul.
Jeremy Lynch