Tags
Related Posts
Share This
Blu-ray Review: QUANTUM OF SOLACE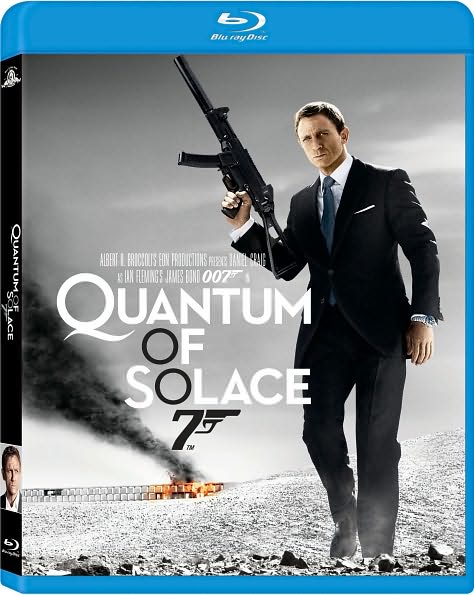 Fox Home Entertainment
DVD/Blu-ray release: March 24, 2009
MSRP: $39.99
Stars: Daniel Craig, Olga Kurylenko, Mathieu Amalric, Judi Dench, Giancarlo Giannini, Jeffrey Wright
Director: Marc Forster
Writers: Paul Haggis, Neal Purvis & Robert Wade
Running time: 106 minutes
U.S. theatrical release date: November 14, 2008
Daniel Craig's second turn as James Bond shows a level of continuity new to the Bond franchise. In fact, the highest compliment I can pay Quantum of Solace is I believed it takes place twenty minutes after 2006's Casino Royale. That said, perhaps because of its ties to the previous film, Quantum of Solace doesn't make much of a mark on its own.

Captured at the end of Casino Royale, Mr. White (Jesper Christensen) escapes interrogation when M's (Dench) personal bodyguard betrays her. Bond pursues the traitor and remains driven to uncover more about the secret, pervasive organization behind Vesper Lynd's death. His pursuit crosses paths with Camille Montes (Kurylenko) who is herself seeking vengeance for her murdered family.
Quantum of Solace succeeds in furthering the development of Bond's character and the trust between him and M. It also offers satisfying resolution to Casino Royale's loose ends, and may be worth watching just for that. However, while Craig, Dench, and the other returning actors are all on their game, the film's pace doesn't give new characters like Camille and crooked environmentalist Dominic Greene (Amalric) much time to make an impression. I welcomed the chance to reconsider them on Blu-ray. They still pale in comparison to Casino Royale's iconic Vesper and Le Chiffre, but many characters would.
Director Marc Forster makes some unusual stylistic choices for a Bond movie. For example, he intercuts Bond's first footrace with a horse race. For the most part, though, he stays true to the tone of Casino Royale and contributes his keen feel for locations.
The title Quantum of Solace is taken from an unrelated Ian Fleming short story in which Bond hardly appears. I wonder where the franchise will go now that the producers want to bring Bond back to his roots but are almost out of original Fleming material.
Video:
Widescreen 2.40:1, 1080p.
Audio:
5.1 Dolby Digital tracks in English, Spanish, French, and Portuguese.
Subtitles:
English, Spanish, Cantonese, Portuguese, Korean, and Mandarin.
Extras:
The most in-depth feature is "Bond on Location", which follows the film's production from country to country, and runs about 30 minutes. Other features are brief and include the music video for Jack White and Alicia Keys' title track "Another Way to Die," stunt training with Olga Kurylenko, profiles of key crew members and director Marc Forster, composer David Arnold discussing the film's score, and the film's theatrical and teaser trailers.
–Gerald So
For more of Gerald's thoughts and observations, check out his blog: If you want to know about my Life…
For more reviews from Gerald, and the rest of the Crimespree crew, check out the index of reviews.