Tags
Related Posts
Share This
Blu-ray Review: THE MALTESE FALCON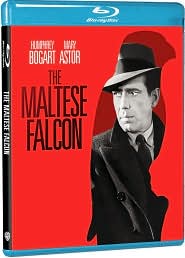 Warner Brothers Home Video
Release date: October 5th, 2010
MSRP: $24.98
Director: John Hoston
Writers: John Huston (screenplay), Dashiell Hammett (novel)
Stars: Humphrey Bogart, Mary Astore, Sidney Greenstreet, Peter Lorre
Before I write another word, I must be up front with you: I LOVE THE MALTESE FALCON. Both the film and the book are favorites of mine and are considered to be among the greatest films (and crime novels) of all time.
OK, having gotten that out of the way, let us take a look at what we have here:
Ruth Wonderly (Mary Astor) approaches Sam Spade (Humphrey Bogart) and Lew Archer about following a man that she suspects has her sister. Archer opts to do the job and soon ends up dead. Sam finds himself being braced by the cops are is not happy about it. He sets out to find out just what happened and what is going on.
Upon confronting Ruth, Spade finds out her story was bunk and she is really called Brigid O'Shaughnessy. I could spend considerable time describing the various half-truths, but will skip all of that and simply say that at the heart of it all is a statue of a falcon (hereafter referred to as the black bird). As things unfold, a couple of other characters enter the picture. Joe Cairo (Peter Lorre), a weaselly little dude and Kasper Gutman (Sydney Greenstreet), the rich and stylish "fat man." Each offering great amounts of money to buy Spade's loyalty and secure the bird.
All parties find themselves dealing with one another in search of the mysterious Black Bird, each telling the others only as much as is absolutely necessary to stay in the hunt. The last part of the film features virtually all of the principal characters in one room waiting until dawn to collect the bird. The scene is downright claustrophobic and puts the pressure on the actors to carry the scene not just with their lines, but subtle body language as well. Soon after that, we are treated to an exchange between Astor and Bogart that is one of the all-time greats. Bogie's speech is magical and helped cement his place as one of the all-time great anti-heroes in film.
TMF is a lean story, with a focus on the characters and dialogue. Director John Huston did something that is virtually unheard of today: He faithfully stuck to the book, keeping almost all of the dialogue in tact. I shudder to think what havoc would be wrecked upon it today. We certainly would have at least one car chase and explosion.
Huston delivers a stylish film that uses not just the dialogue and body language of the actors, but also offers up some outstanding cinematography. The shots are tight and Huston makes excellent use of shadows and lighting. Each of the actors really knock it out of the park. Since the cast is fairly small, each has to hold his own against the others and I can't help but think that they are helped one another rise up and bring their A game.
Video:
Warner Brothers has an excellent track record when it comes to the classics and this is no exception. The picture is fantastic. The most important thing, in my opinion, is the blacks as the film makes heavy use of the shadows and has a lot of smoky scenes. Everything is crystal clear and nothing looks out of place. The picture is fairly clean, but shows no signs of DNR.

Audio:
The sound is presented in Mono DTS HD and also is quite nice. There is little hiss and the mix of dialogue, soundtrack and background sounds is excellent. I have to say that I don't know how much of this is due to restoration versus WB taking great care to keep the original reels in good shape. Either way, this is lovely.
Subtitles are presented in English, French, German, Spanish, Portuguese, Portuguese (Brazilian), Danish, Suomi, Russian, Nordic, and Swedish. German, Spanish, and Portuguese language tracks are also available.
Extras:
All of the extras from the previous three DVD release are here, but nothing more. The only thing I feel the need to point out is that set included the two other films based on the book, but this has neither of them.
When one thinks of the hard-boiled private eye, Bogie and THE MALTESE FALCON is pretty much the standard. Smoke-filled rooms, sinister characters, lies at every turn and a steady, smooth PI holding all at bay. Don't even question it, just buy! This should be in every home film library.
Order THE MALTESE FALCON on Blu-ray.
Jeremy Lynch