Tags
Related Posts
Share This
Blu-ray Review: THE MUPPETS.
Disney Studios Home Entertainment
Growing up, I was a hyooge fan of the Muppets. The Muppet Show was fabulous and the first few films were good. But as time went on, the franchise faded. The death of creator Jim Henson clearly hurt them, as did the departure of the other founding members. For years, it felt like the Muppets had not just lost their way, but their soul as well.
 
When word came that Jason Segel, a big fan, wanted to create a new Muppet movie, I had my doubts. The Muppets From Space was wretched and left a bad taste in my mouth.
 
THE MUPPETS is a pleasant surprise. Segel and company show respect and pay tribute to the early films while not feeling like a retread.
Walter (a Muppet) and Gary (Jason Segel) are brothers and best friends. They live in Small Town USA, which appears to be stuck in the 50s. Walter fell in love with The Muppet Show and while the rest of the world have forgotten about them, he remains the Muppets number one fan.
 
Gary decides to take Mary (Amy Adams), his girlfriend, to L.A. for their ten year anniversary (smart move). He also decides to invite Walter (dumb move). While Mary agrees, we soon learn that Mary is frustrated at having to compete, with Walter, for Gary's time and attention. But she likes Walter and agrees with a small smile.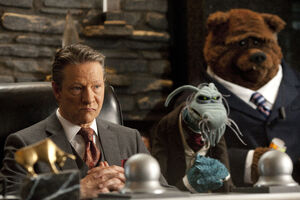 While visiting the run-down Muppet studios, Walter learns that Tex Richman, an evil oil tycoon, is planning on tearing down the studio to drill for oil. Horrified, Walter convinces Gary and Mary to help him find Kermit. It turns out that the Muppets have a matter of days to raise 10 million to buy back the property. I would like to point out that Tex is accompanied by Bobo, the bear security guard from THE MUPPETS TONIGHT and UNCLE DEADLY!!!!!!! Deadly was a minor Muppet Show character that was once known as the Phantom of The Muppet Show and is one of my all-time fav Muppet characters. Yayyyyyy!
 
Kermit appears to be a melancholy recluse that quietly pines for the days of old. Walter and co convince him to track down the gang and put on a big show in hopes of raising the money. I have to say that Kermit as a depressed recluse is hard to watch and, in my opinion, does not jive with previous incarnations of the frog.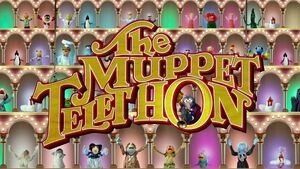 Soon the gang is back together and ready to put on a telethon to save both the property and the actual rights to the Muppets name and the intellectual properties. Sadly, Gary gets so caught up in it that he forgets the real reason for coming to L.A. Crushed, Mary goes back home, telling Gary he needs to decide if he is a man or a muppet. This leads to the award-winning song that, if I am totally honest, I can't stand.
Gary goes to Walter for advice, but Walter is too wrapped up in being a part of the Muppet return and can't get his head around the fact that Gary needs him. Crushed, Gary goes back to Small Town and Mary. For the first time in their lives, they have different priorities and goals.
Now since this is the Muppets, I think we all know that everything turns out ok. This film is not so much about the outcome, but rather the journey to get to it.
All in all, I really enjoyed THE MUPPETS. I did feel that the writers (and puppeteers) seem to have missed the core of some of the characters (Kermit especially), but time has passed and I accept that things, and characters, are going change with different puppeteers and writers.  They showed tremendous respect to the Muppet mythos and delivered a film that feels modern and appears not just to those of us that grew up on them, but a entirely new generation. I hope this is the first step in a full resurrection of a brand that has struggled.
Video: THE MUPPETS is delivered in 1080p with a 1.78:1 aspect ratio. HD really works well not just with the colors of the Muppets, but also the 50s throwback feel of the film.
Audio:Sound is presented in 7.1 DTS-MA, with an additional DTS track for French. Also included are English DVS 2.0 Dolby Digital and a Spanish 5.1 Dolby Digital, along with optional English SDH, Spanish, and French subtitles.
Simply put, this is the best the Muppets have looked in over a decade. The fact that it took outside writers to make it happen should not be lost on anyone, especially the folks at Jim Henson Studios. I hope this is a launching point for a new era of MUPPET mayhem. Well worth the price.