Tags
Related Posts
Share This
Blu-ray Review: We Bought A Zoo.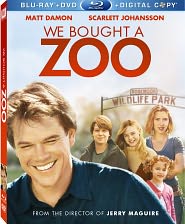 Fox Home Entertainment
Release date: April 3rd, 2012
Director: Cameron Crowe
Stars: Matt Damon, Scarlett Johansson, Thomas Haden Church, Elle Fanning, Angus MacFadyen
Six months after the death of his wife, Benjamin Mee (Matt Damon) decides to find a new house, one that does not constantly remind him of her. He comes across his perfect home, but there is one catch: Whoever buys it must also take the dilapidated zoo that is on the property.
After seeing the delight in his 7 year-old daughter's eyes, he takes the leap and becomes the owner of one shoddy zoo. The remaining staff members initially view him with skepticism, but eventually warm to him and all work together to bring the zoo up to code and get it open.
As one can imagine, this is as much about Mee and his two children as it is about the zoo. Dylan (the 14 year old son) and Ben have been struggling to relate to one another since the death. After some rough times, they find common ground and work together to make the zoo, and their family, whole.
Were it not at least partially based on factual events, I would likely write it off as total fluff, but We Bought A Zoo has a lot of heart and the fine performances, by animals as well as humans, make this a delightful way to spend an evening. In a perfect world, Crome would have worked a little more on the relationship between Dylan and Benjamin, but that tidbit does not take too much away from the overall quality.
Video:
Presented in 1080P with a 1.85:1 ratio, WBAZ looks amazing. The cinematography is fabulous and I can't find any issues with the overall look. The great picture really helps a film that is taking place outdoors and features plenty of animals.
Extras:
Cameron provides a commentary track with actor JB Smooth and editor Mark Livolsi. Smooth is pretty playful and, at times, sends this into the realm of wacky. But overall, it is a nice mix of entertainment and information.
We Shot A Zoo is a 70some minute documentary that looks at the entire process from Cameron first meeting the real Mee all the way to the final product. It was fascinating watching them build an entire zoo, with comments from actors, producers and even animal wranglers. Well worth watching.
The Real Mee (baaad name) runs just under 30 minutes and offers up the true story of Mee and his journey into the world of zoos. He gives us a tour and talks openly about his late wife.
There are a few other extras, including some gorgeous photos, deleted scenes and trailers.
What we get here is a Disney-type family film seen through the eyes of Cameron Crowe. Don't let the family bit drive you away as Crowe delivers the film that is  beyond your generic family flick and puts a little heart into a tale about the good side of folks. When it is dreary outside and I am feeling down, I will most certainly rejoin Benjamin Mee and company as it will certainly brighten in the darkest souls.