Tags
Related Posts
Share This
Blu-ray Review: WHITE COLLAR: The Complete First Season.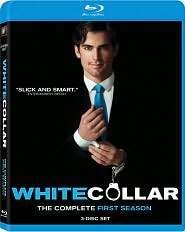 Fox Home Entertainment Release date: July 13th, 2010.
MSRP: DVD: $49.98, Blu-ray: $69.99
Neal Caffrey (Matthew Bomer) is one of the best at what he does. Normally this would be a good thing, but what he does is con and swindle people. Our society frowns on this, which is why when WHITE COLLAR begins, he is in prison. Mere minutes after we meet him, he strolls on out of prison. The officials turn to the one man that was able to catch him: FBI special agent Peter Burke (Tim DeKay). He knows how Neal thinks and quickly tracks him down and returns him to prison.

But they soon speak again and an agreement is made: Neal will have a limited release in exchange for working for the Bureau in an advisory role, going after those in the same field as he. Neal quickly finds a nice place to live and the two form an uneasy alliance.
But there is more to WC that just an odd couple fight crimes, Neal's girlfriend has disappeared and he wants to know why. No sooner does he start poking around when finds himself peering into a murky world of conspiracy where nothing is as it seems. Can he figure it out while keeping Burke at arms length?
While the show is obviously fiction, they stretch things more than a little. At times, I did find myself snorting in disbelief at Neal's almost MacGyver-like skills. He seemingly knows everything and is able to accomplish anything with only the most basic of equiptment and preparation time (not unlike LEVERAGE). But that stuff was not enough to make me walk away, it is just too damn fun.
Video:The blu-ray looks fantastic. Neal's wardrobe really benefits from the HD presentation. The sharp suits stand out, the details pop nicely as does his apartment. The blacks are good, but some of the whites seem a bit soft.
Extras:
There are five commentary tracks that feature show creator Jeff Eastin as well as stars Matt Bomer and Tim DeKay. Co-stars Willie Garson and Tiffani Thiessan also appear on a couple of tracks. Nothing too spectacular. I am sure die-hard fans will enjoy them, but casual fans can skip them. Some interesting behind the scenes tales, but nothing that is going to enhance your overall viewing.
There are three featurettes. PRO & CON looks at the two leads, COOL CAT IN A HAT covers the fashion of the show and NOTHING BUT THE TRUTH features show consultant former FBI agent Tom Barden. Barden worked white collar crimes and talks about it.
There are also some deleted scenes as well as a gag reel. I have not seen a gag reel that did not make me want my time back and this one was no exception.
Bottom line is that White Collar is a fun, breezy show with enough charm for five shows. Slick capers and just enough conspiracy to spice things up, White Collar is the ideal way to leave the troubles of the real world behind.
Order WHITE COLLAR: The Complete First Season. on DVD or Blu-ray.
Jeremy Lynch