Tags
Related Posts
Share This
Bracco comes on board for RIZZOLI.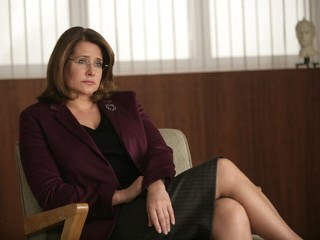 Angie Harmon now knows who her mother is.
Lorraine Bracco (THE SOPRANOS) has signed on for RIZZOLI, the TNT series based on Tess Gerritsen's novels. She will play the title character's mother.
RIZZOLI is about Det. Jane Rizzoli (Harmon), a Boston Homicide detective that works with Medical Examiner Maura Isles (Sasha Alexander).
Also on board are Jordan Bridges as patrol officer Frankie Rizzoli Jr, Jane's younger brother who is described as idolizing his sister and hopes to follow in her footsteps. Bruce McGill (MY COUSIN VINNY, ANIMAL HOUSE)is Jane's former partner Vince Korsak, who is "gruff but loveable" and is a little hurt by Jane taking a new partner. McGill might be best known as D-Day from ANIMAL HOUSE. Lastly, the aforementioned new partner is newbie Barry Frost. Lee Thompson Young is playing Frost. Lee plays Agent Al Gough on ABC's FLASHFORWARD.