Tags
Related Posts
Share This
BREAKING BAD: The Complete Series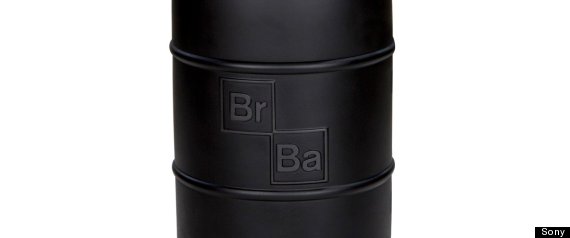 The dust has barely settled for Walter and co, but Sony Home Entertainment has already announced the Complete Series of BREAKING BAD will come home on November 26th.
BREAKING BAD follows protagonist Walter White (Cranston), a chemistry teacher who lives in New Mexico with his wife (Gunn) and teenage son (Mitte) who has cerebral palsy. White is diagnosed with Stage III cancer and given a prognosis of two years left to live. With a new sense of fearlessness based on his medical prognosis, and a desire to secure his family's financial security, White chooses to enter a dangerous world of drugs and crime and ascends to power in this world. The series explores how a fatal diagnosis such as White's releases a typical man from the daily concerns and constraints of normal society and follows his transformation from mild family man to a kingpin of the drug trade.
BREAKING BAD: THE COMPLETE SERIES  Set  contains over 55 hours of extras, including:
No Half Measures: Creating the Final Season of Breaking Bad – An all-new, exclusive two hour documentary that chronicles the filming of the final eight episodes.
Bad Memories – Bryan Cranston and Aaron Paul talk about the show ending and some of their favorite moments.
Bryan Cranston: Director – Go on set with Bryan Cranston as he directs the first episode of the season entitled "Blood Money."
Scene Envy – The Cast tell us which scene they wish they could have been in.
Shocking Moments – The Stars Reveal The Moments that Shocked Them Most.
From Walt to Heisenberg – From high school teacher to deadly meth dealer, watch as Walter White quickly transforms into Heisenberg.
How Will It End? – At the beginning of the season, the cast was asked to give their thoughts on how they thought the show would end.
Avenging Agent: Dean Norris as Hank Schrader — A look at the character Hank Schrader and the man who played him, Dean Norris.
Scene Stealer: Betsy Brandt as Marie Schrader – A look at the character Marie Schrader and the woman who plays her, Betsy Brandt.
A Criminal Attorney: Bob Odenkirk as Saul Goodman –A look at the character Saul Goodman and the man who played him, Bob Odenkirk.
Jesse's Journey: Aaron Paul as Jesse Pinkman – A look at the character Jesse Pinkman and the man who played him, Aaron Paul.
Skyler Breaks Bad: Anna Gunn on Season Four – Actress Anna Gunn and series creator Vince Gilligan explore Skyler's character evolution through the fourth season.
Growing Up in the White House: RJ Mitte on Walter, Jr. – RJ Mitte, Anna Gunn, Bryan Cranston and series creator Vince Gilligan discuss the extraordinary dynamics of the White family, and Walter, Jr.'s unique role.
The Ultimate Chess Match – Members of the cast and crew discuss Walter White and Gus Fring's extraordinary and complicated battle of wits and their struggle for Jesse's allegiance.
Looking Back: A Season Four Retrospective – Season Four's most surprising and memorable moments.
Ted's Wipeout – In Episode 411, "Crawl Space," Ted Beneke suffers a head injury while trying to escape from Saul's goons. In this featurette, Christopher Cousins (Ted) explains how this shocking stunt was accomplished.
The Truck Attack Storyboard Comparison – A side-by-side comparison of the Los Pollos Hermanos truck attack and the brilliant shot-by-shot storyboards that were created for the episode "Bullet Points."
Walt and the Challenger Storyboard Comparison – A side-by-side comparison of the sequence where Walt indulges in some crazy stunt driving in Walt Jr.'s Dodge Challenger and the storyboards that were created.
The Blu-ray set has a MSRP of $299.99.