Tags
Related Posts
Share This
Brookmyre, Iles featured in this week's giveaway
Crimespree magazine,  in conjunction with Friday Reads Facebook page,  is offering you a chance to receive copies of BRED IN THE BONE by Christopher Brookmyre and NATCHEZ BURNING by Greg Iles
BRED IN THE BONE by Christopher Brookmyre
Bred in the Bone is the stunning third novel in Brookmyre's series featuring private investigator Jasmine Sharp and Detective Superintendent Catherine McLeod. Set in the disturbing underworld of Glasgow-a place where countless old scores are still waiting to be settled, and where everyone knows everyone else-Bred in the Bone is a masterful mystery novel that will appeal to readers of Denise Mina, Val McDermid, and Ian Rankin.
Private investigator Jasmine Sharp's father was murdered before she was born, and her mother went to self-sacrificing lengths in order to shield her from the world in which he moved. Since her mother's death, all she has been able to learn is his first name-and that only through a strange bond she has forged with the man who killed him: Glen Fallan. But when Fallan is arrested for the murder of a criminal her mother knew since childhood, Jasmine is finally forced to enter his domain: a place where violence is a way of life and vengeance spans generations.
Detective Superintendent Catherine McLeod has one major Glaswegian gangster in the mortuary and another in the cells for killing him – which ought to be cause for celebration. Catherine is not smiling, however. From the moment she discovered a symbol daubed on the victim's head, she has understood that this case is far more dangerous than it appears on the surface, something that could threaten her family and end her career.
As one battles her demons and the other chases her ghosts, these two very different detectives will ultimately confront the secrets that have entangled both of their fates since before Jasmine was even born.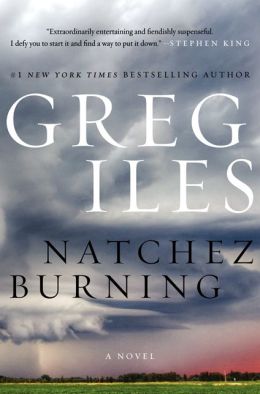 NATCHEZ BURNING by Greg Iles
#1 New York Times bestselling author Greg Iles returns with his most eagerly anticipated novel yet and his first in five years—Natchez Burning—the first installment in an epic trilogy that interweaves crimes, lies, and secrets past and present in a mesmerizing thriller featuring Southern lawyer and former prosecutor Penn Cage
Growing up in the rural Southern hamlet of Natchez, Mississippi, Penn Cage learned everything he knows about honor and duty from his father, Tom Cage. But now the beloved family doctor and pillar of the community is accused of murdering Viola Turner, the beautiful nurse with whom he worked in the dark days of the early 1960s. A fighter who has always stood for justice, Penn is determined to save his father, even though Tom, stubbornly evoking doctor-patient privilege, refuses to speak up in his own defense.
The quest for answers sends Penn deep into the past—into the heart of a conspiracy of greed and murder involving the Double Eagles, a vicious KKK crew headed by one of the wealthiest and most powerful men in the state. With the aid of a local friend and reporter privy to some of Natchez's deadliest secrets, Penn follows a bloody trail that stretches back forty years, to a shocking truth that will forever alter his perception of both his father and himself.
With everything on the line, including his own life, Penn must decide how far he will go to protect those he loves . . . and judge whether justice is worth the cost.
Rich in Southern atmosphere and electrifying plot turns, Natchez Burning marks the brilliant return of a genuine American master of suspense. Tense and disturbing, it is the most explosive, exciting, sexy, and ambitious story Greg Iles has ever written.
To be entered in the drawing shoot an email over to Jon?@crimespreemag.com (remove the question mark) And put CONTEST in the subject line. Also please put your address in the body of the email.
We will pick the winners on May 9th.
When we do the drawing we will be sending an extra something