Tags
Related Posts
Share This
C.J. Box: The BADLANDS Interview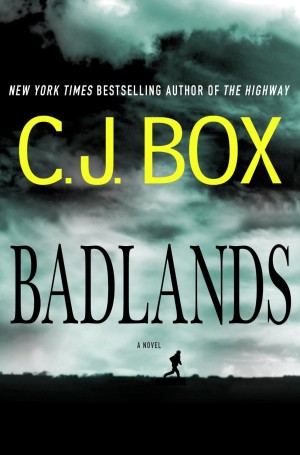 BADLANDS by C. J. Box is the follow up to last summer's thriller, THE HIGHWAY. It brings back the character Cassie Dewell who has moved from Montana to Grimland, North Dakota, a shale oil boomtown.  Not only is she still tracking the serial killer, the Lizard King, but now must deal with biker gangs, drugs, and a murder witnessed by Kyle Westergaard, a twelve year old suffering from fetal alcohol syndrome.  As Cassie struggles to find answers the plot's suspense ratchets up.
Elise Cooper:  Would you describe Cassie as a female Joe Pickett?
 J. Box: Yes, in that she is not a super cop and has a family element. She is not drop dead gorgeous, definitely not a female stud.  She has doubts to overcome and many times must feel her way around, allowing her instincts to guide her.  Because she was a diversity hiring she feels the need to prove herself. She is like her mentor Cody Hoyt who wanted to make sure the victims are the ultimate concern, sometimes manipulating the system to gain justice.
EC: Are truck drivers extremely important to the plot?
Box:  Yes.  I researched and found that the FBI actually has a highway serial killer task force.  There are about 20 to 25 different truck drivers who killed girls over the years.  I actually went out with a husband and wife truck driving team to see what it was like.  I came up with this piece of the story because my youngest daughter was driving back and forth from college to home, and had to deal with all the trucks on the road. The nuts and bolts of the truck information are all realistic.
EC:  Please talk about Kyle.
Box:  Over the years I had a lot of kids in books and wrote from their point of view.  I realized in my stories I never had boys, only girls.  I guess that was because I have only daughters.  One of my daughters works for family services so I asked her for help about writing a character with fetal alcohol syndrome.  I found out there are children who suffer from mild to devastating symptoms.  I wrote Kyle with a mild case although he is still over looked by the townspeople.  Yet, in his own way Kyle is sharp and can connect the dots.
EC:  Did you want to give a shout out to those in the military?
Box:  Yes.  That is why I had Cassie's husband a soldier killed in Afghanistan.  I want Americans to understand the anguish of a war widow, and a son who never will have met his dad.  I think many times those fighting the War on Terror are overlooked.  Many of us can name battles of World War II, but I doubt many civilians can name a battle from Afghanistan.
EC:  Do you see a difference between Cassie's Sheriff boss, Tubman, from THE HIGHWAY and Sheriff Kirkbride from BADLANDS?
Box:  Tubman is phony, political, a manipulator whose only goal is to make himself look good.  Kirkbride is the direct opposite:  Straight forward, the antithesis of Tubman.  He wants the best for his community and is very supportive of Cassie.
EC: You also discuss in the book the benefits of fracking.  Please Explain.
Box:  North Dakota rebounded because of the energy development. There is no evidence of it causing any environmental damage. Even the EPA came out with a study that found fracking has no effect on ground water.  I am sure if there were any environmental damages we would hear about it.  It helped dying towns become boomtowns. I also wanted to emphasize in the book the dangers of using trains to carry the oil.  The only reason for this is because the environmentalists are challenging the building of the pipelines.
EC:  You also talk about the "man camps."  Please Explain.
Box:  I toured several with the sheriff.  They are like the one I described in the book.  Clean dormitories with zero tolerance for misbehavior and cameras are everywhere for protection.  They have modular buildings that are attached to each other with traveling chefs, exercise rooms, and doctors.
EC:  Do you like Teddy Roosevelt because you give a shout out to him?
 Box:  He was one of my favorite Presidents.  I loved his life and made sure to fit it into the story.  It was easy because he was one of the first ranch owners in North Dakota.  I think this is where he got the grit from and the idea for the Rough Riders.  He decided to vanish to North Dakota after losing his mother and wife on the same day.  He felt this area gave him his grounding.
EC:  Can you tell us about your next book?
 Box:  I do not write two books a year so every other year there will be a stand alone, like the Cassie books, and every year I will write a Joe Pickett book.  The next Joe Pickett book will feature Nate Romanowski, the Falcon specialist.  It is called Off The Grid and has Nate vanishing with Joe sent to find him.
EC:  Any other projects?
Box:  David E. Kelly is taking the pilot script for The Highway to Amazon and/or Netflix while Robert Redford is shopping the Joe Pickett series to Hallmark and the National Geographic Channel.  I saw the pilot of The Highway and thought it was great.  It stuck to the book.  David has been great about sending me drafts to everything he writes.  I hope if it gets picked up they will film in Montana because it would certainly be more authentic.
THANK YOU!!