Tags
Related Posts
Share This
Cain, Cameron, Ramos and Stashower featured in this week's Giveaway.
This week , in conjunction with Friday Reads Facebook page, we are giving away copies Chelsea Cain's KILL YOU TWICE audiobook,  Dana Cameron's SEVEN KINDS OF HELL ,  Manuel Ramos' DESPERADO and Daniel Stashower's THE HOUR OF PERIL audiobook.
KILL YOU TWICE (audiobook) by Chelsea Cain
Nothing makes Portland detective Archie Sheridan happier than knowing that Gretchen Lowell—the serial killer whose stunning beauty is belied by the gruesome murders she's committed—is locked away in a psych ward. Archie can finally heal from the near-fatal physical and emotional wounds she's inflicted on him and start moving on with his life.
To this end, Archie throws himself into the latest case to come across his desk: A cyclist has discovered a corpse in Mount Tabor Park on the eastern side of Portland. The man was gagged, skinned, and found hanging by his wrists from a tree. It's the work of a killer bold and clever enough to torture his victim for hours on a sunny summer morning in a big public park and yet leave no trace.
And then Archie gets a message he can't ignore—Gretchen claims to have inside knowledge about this grisly murder. Archie finally agrees to visit Gretchen, because he can't risk losing his only lead in the case. At least, that's what he tells himself . . . but the ties between Archie and Gretchen have always been stronger, deeper, and more complex than he's willing to admit, even to himself. What game is she playing this time? And even more frightening, what long-hidden secrets from Gretchen's past have been dredged up that someone would kill to protect?
Chelsea Cain is the New York Times bestselling author of Archie Sheridan series. Both Heartsick and Sweetheart were listed in Stephen King's Top Ten Books of the Year in Entertainment Weekly. Chelsea lived the first few years of her life on an Iowa commune, then grew up in Bellingham, WA, where the infamous Green River killer was "the boogieman" of her youth. The true story of the Green River killer's capture was the inspiration for the story of Gretchen and Archie. Cain lives in Portland with her husband and daughter.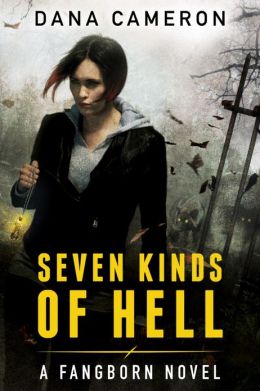 SEVEN KINDS OF HELL by Dana Cameron.
Archaeologist Zoe Miller has been running from a haunting secret her whole life. But when her cousin is abducted by a vicious Russian kidnapper, Zoe is left with only one option: to reveal herself.
Unknown to even her closest friends, Zoe is not entirely human. She's a werewolf and a daughter of the "Fangborn," a secretive race of werewolves, vampires, and oracles embroiled in an ancient war against evil.
To rescue her cousin, Zoe will be forced to renew family ties and pit her own supernatural abilities against the dark and nefarious foe. The hunt brings Zoe to the edge of her limits, and with the fate of humanity and the Fangborn in the balance, life will be decided by an artifact of world-ending power.
Award-winning author Dana Cameron lives in eastern Massachusetts with her husband and two cats. Cameron, known for her mystery novels and short stories, was short-listed for the Edgar Award in 2010 for "Femme Sole," and earned the Agatha Award in 2011 for "Disarming" and in 2008 for the Fangborn story, "The Night Things Changed." Trained as an archaeologist, Cameron holds a bachelor of arts from Boston University and a doctorate from the University of Pennsylvania. When she's not writing fiction, Cameron enjoys exploring the past and the present through reading, travel, museums, popular culture, and food.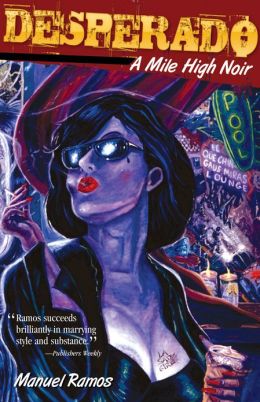 DESPERADO by Manuel Ramos
Gus Corral can't quite believe it when an old high school buddy he hasn't seen in years asks him for help. Artie Baca looks as cool as ever; the hippest guy in high school now looks like a GQ cover boy, Chicano style. And like always, Artie has women problems, even though he's married. He's being blackmailed because of an imprudent fling—caught on video, of course. Artie has a prosperous real estate business and can afford to pay off the young girl, but he'll reward Gus handsomely for his help in convincing her that there won't be any future payments.
Gus's life hasn't been as successful; he manages his ex-wife's second hand shop after losing his job in the recession and claims to also work as the night watchman so he can live there too. He can really use the money Artie is offering and agrees to help, even though he knows Artie probably deserves the shake down.
But before Gus can deliver the money, Artie is dead and the police want to know why the deceased was carrying a check made out to his old high school chum. And when an armed stranger breaks into the shop in the dead of night, Gus knows there's more to the situation than meets the eye. An investigation into Artie's involvement in the gentrification of Denver's north side leads to harrowing encounters with dangerous criminals, both from the area and south of the border. Suddenly Gus is ensnared in the theft of one of the most revered religious symbols in the Catholic Latino world, a cloak bearing the image of the Virgen de Guadalupe. He's caught between warring gangs, and soon he and the people he cares about most are in a life-and-death predicament.
Manuel Ramos is the Director of Advocacy for Colorado Legal Services, the statewide legal aid program, and the author of eight published novels, five of which feature Denver lawyer Luis Móntez. For his professional and community service he has received the Colorado Bar Association's Jacob V. Schaetzel Award, the Colorado Hispanic Bar Association's Chris Miranda Award, the Spirit of Tlatelolco Award, and others. His fiction has garnered the Colorado Book Award, the Chicano/Latino Literary Award, the Top Hand Award from the Colorado Authors League, and two Honorable Mentions from the Latino International Book Awards. The Móntez series debuted with The Ballad of Rocky Ruiz (1993), a finalist for the Edgar® award from the Mystery Writers of America. His published works include the mainstream novel King of the Chicanos (2010), several short stories, poems, non-fiction articles and a handbook on Colorado landlord-tenant law, now in a fifth edition. He is a co-founder of and regular contributor to La Bloga (www.labloga.blogspot.com), an award-winning Internet magazine devoted to Latino literature, culture, news, and opinion. His latest novel, Desperado: A Mile High Noir, was published by Arte Público Press in March.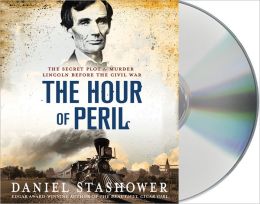 THE HOUR OF PERIL (audiobook) by Daniel Stashower
Daniel Stashower, the two-time Edgar award–winning author of The Beautiful Cigar Girl, uncovers the riveting true story of the "Baltimore Plot," an audacious conspiracy to assassinate Abraham Lincoln on the eve of the Civil War.
In February of 1861, just days before he assumed the presidency, Abraham Lincoln faced a "clear and fully-matured" threat of assassination as he traveled by train from Springfield to Washington for his inauguration. Over a period of thirteen days the legendary detective Allan Pinkerton worked feverishly to detect and thwart the plot, assisted by a captivating young widow named Kate Warne, America's first female private eye.
As Lincoln's train rolled inexorably toward "the seat of danger," Pinkerton struggled to unravel the ever-changing details of the murder plot, even as he contended with the intractability of Lincoln and his advisors, who refused to believe that the danger was real. With time running out Pinkerton took a desperate gamble, staking Lincoln's life—and the future of the nation—on a "perilous feint" that seemed to offer the only chance that Lincoln would survive to become president. Shrouded in secrecy—and, later, mired in controversy—the story of the "Baltimore Plot" is one of the great untold tales of the Civil War era, and with The Hour of Peril Stashower has crafted a spellbinding historical narrative with the pace and urgency of a race-against-the-clock thriller.
DANIEL STASHOWER is an acclaimed biographer and narrative historian and winner of the Edgar, Agatha, and Anthony awards, and the Raymond Chandler Fulbright Fellowship in Detective Fiction. His work has appeared in The New York Times, The Washington Post, Smithsonian Magazine, AARP: The Magazine, and National Geographic Traveler as well as other publications.
To be entered in the drawing shoot an email over to Jon?@crimespreemag.com (remove the question mark) And put CONTEST in the subject line. Also please put your address in the body of the email
We will pick the winners on May 24th.
When we do the drawing we will be sending an extra something for one lucky winner to be picked from the comments section of the Friday Reads face book page, so after you enter, go leave a comment!