Tags
Related Posts
Share This
Chelsea Cain's LET ME GO is featured in this week's giveaway
Just in time for Halloween, Crimespree magazine,  in conjunction with Friday Reads Facebook page,  is giving away copies of Chelsea Cain's LET ME GO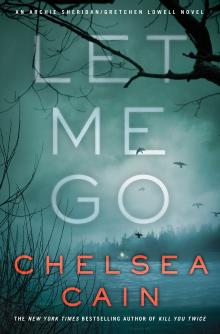 LET ME GO by Chelsea Cain
Detective Archie Sheridan just has to get through the next few days, then his birthday and Halloween will be over. But with escaped serial killer Gretchen Lowell on the loose, the investigation into the murder of a DEA agent demanding his attention, and journalist Susan Ward showing up at his apartment needing a favor, it's going to be a long weekend.
Soon Archie finds himself crashing a masked ball on a private island owned by Jack Reynolds, a notorious local drug kingpin. By morning, Archie is back on pain killers, a guest is dead and Archie quickly realizes that little is what it seems. One thing is clear: Gretchen is back, and Archie's nemesis and sometimes lover has something special in mind for the birthday boy, something she's been planning for a long, long time. On Halloween Eve, with time running out, and the life of someone close to Archie on the line, Archie knows his only chance is to give Gretchen exactly what she wants. But Gretchen will prove more horrifying, and unpredictable, than Archie could ever imagine.
Back with her most thrilling novel yet, Chelsea Cain delivers the pinnacle of what fans of this series have come to expect: sex, murder, twists, dark wit, and some of the best characters in the genre.
Chelsea Cain is the New York Times bestselling author of Archie Sheridan series. Both Heartsick and Sweetheart were listed in Stephen King's Top Ten Books of the Year in Entertainment Weekly. Chelsea lived the first few years of her life on an Iowa commune, then grew up in Bellingham, WA, where the infamous Green River killer was "the boogieman" of her youth. The true story of the Green River killer's capture was the inspiration for the story of Gretchen and Archie. Cain lives in Portland with her husband and daughter.
To be entered in the drawing shoot an email over to Jon?@crimespreemag.com (remove the question mark) And put CONTEST in the subject line. Also please put your address in the body of the email.
We will pick the winners on November 1st.
When we do the drawing we will be sending an extra something for one lucky winner to be picked from the comments section of the Friday Reads face book page, so after you enter, go leave a comment!