Tags
Related Posts
Share This
Chelsea Cain talks about potential FX series as well as those involved.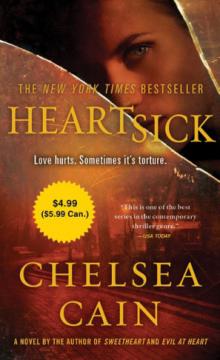 Last night, word came that FX is developing a series based on Chelsea Cain's Gretchen Lowell/Archie Sheridan novels.
There are four books in total (a fifth comes out in August) that feature Portland detective Archie Sheridan and serial killer Gretchen Lowell. Once upon a time, Sheridan was head of the task force charged with catching The Beauty Killer. But said killer captured him and spent ten days torturing him before saving his life and allowing herself to be arrested. The two now have a very complex (i.e. messed up) relationship. The focus on Archie and that relationship.
Like many things in Hollywood, this came only after several failed attempts to adapt Cain's books. But this time, Cain felt the right people were involved. "This deal started like six months ago with a phone call my agent set up with a TV writer named Mikko Alanne. I've done a lot of these Hollywood conference calls over the years and everyone is always extremely nice and smart and charming, but they have all brought their own spin or interpretation of my story." She said, "Mikko read Heartsick when it came out. He read all the books when they came out. He's a huge fan of the series, and he really knows and appreciates the characters. It was amazing to talk to someone about this world I've created in my mind and have him be every bit engaged and knowledgeable as I was. If I'm honest, he may know the characters better than I do."


Alanne is not a well known name right now, but has several things in the works and worked with heavy hitters like Oliver Stone, Angelina Jolie and Michael Douglas. The Finnish writer's past work has mainly been documentaries and has garnered considerable praise. His first dramatic film wasr Renny Harlin's 5 DAYS OF WAR. He has some experience adapting books as he has tackled as-yet-unproduced New York Times best-sellers THE LONG ROAD HOME and FRANKLIN AND WINSTON.
Past proposals have been for film, but Chelsea feels that TV is the right home for her stories. "TV is the perfect venue for the books because TV allows slow character development and slow reveals and complicated plot lines. Besides, I write a series because I grew up on television and series books and it always kills me to read a book or see a movie and then have it be over. I want another one. Always. I am an American, and I want more. So I am excited that a TV series will allow us to revisit Archie and Gretchen again and again. It will allow the story to be told in a way that I think will please fans of the books more than a ninety minute adaptation would."
And FX? "They do some mighty fine TV. I am a big fan of both Justified and American Horror Story. They are clearly not afraid to disembowel people or break out the black latex body suit when it's needed. Also, FX allows their creatives a lot of control. They aren't afraid to take risks. Between FX and Mikko I am absolutely confident that if the series makes it on the air it will be terrific and every bit as twisted as I intended it."
It should be noted that this is simply in development. That means a pilot still needs to be shot and has to not suck so FX orders a season. So everyone cross their fingers, this could result in some damn fine television. If all goes well, there would be as many seasons as there are books, with each tackling one novel.