Tags
Related Posts
Share This
Christa Faust to adapt MONEY SHOT.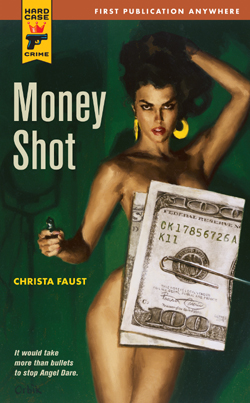 The number of authors that see their books optioned for film are limited. But even those lucky few generally don't find themselves writing the screenplay. But that is exactly what Christa Faust is doing. She has signed on to adapt her 2008 novel MONEY SHOT.
For you sad individuals that have not read the Edgar-nominated MONEY SHOT (I was one just a couple of weeks ago!), MS brings us Angel Dare. Angel is a retired porn star that now runs an adult modeling agency. Angel is asked to come back for one more film, only to be shot and left for dead. Angel, with the aid of former cop Lalo Malloy, goes after those responsible with the intent of some serious retribution. Gritty and awesome, MS is a must read.

Apparently producer Daniel Ostroff agreed as he has purchased the film rights. Ostroff produced THE MISSING as well as the skateboarding documentary DOGTOWN AND THE Z-BOYS.
Christa has a lot of faith in Daniel and thinks he gets what she is doing. "Osteroff has been a tireless cheerleader for the project," Christa said. "He really believes in getting Angel Dare on the silver screen and has been working overtime to find ways to convince potentially gunshy investors that porn has gone mainstream and is ready for its close up."
She is equally excited about Jim Sonzero. the man that will stand behind the camera.
"Sonzero certainly has a strong visual style, but he really won me over because he (like me) can't stand shaky, ants-in-the-pants camerawork. He's more interested in giving the actors time and space to do their job. At its core, Money Shot is more about character development than about jittery running and fighting and crashing. I like that he gets that."
Sonenzo recently directed THE PULSE, a horror flick starring Kristen Bell (VERONICA MARS, FORGETTING SARAH MARSHALL) and was the Cinematics director for the video game RESIDENT EVIL 5.
Screenwriting is something new for Faust and has been a challenge. "First of all, I quickly discovered that some things work perfectly well in prose, but not so well in a more visual medium. Second, while novel writing is a mostly solitary job, films are much more collaborative. Each person involved brings their own input and ideas to the table and so it's important to be able to work together as a team."
This has a hell of a lot of promise. The character of Angel Dare is a real gem. I hope the character's background does not scare off too many actresses because in the right hands, she will rock!