Tags
Related Posts
Share This
Colleen McCullough and Martin Cruz Smith
Crimespree Magazine,  in conjunction with Friday Reads Facebook page,  is giving away copies of Martin Cruz Smith's TATIANA and Colleen McCullough's SINS OF THE FLESH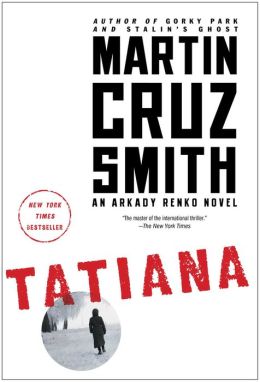 TATIANA by Martin Cruz Smith
In Tatiana, Martin Cruz Smith, "the master of the international thriller" (The New York Times)creates the most compelling heroine of his career and the most realistic, damning portrait of modern Russia in contemporary literature.
One of the iconic investigators of contemporary fiction, Arkady Renko—cynical, analytical, and quietly subversive—has survived the cultural journey from the Soviet Union to the New Russia, only to find the nation as obsessed with secrecy and brutality as was the old Communist dictatorship. In Tatiana, Martin Cruz Smith's most ambitious novel since Gorky Park, the melancholy hero finds himself on the trail of a mystery as complex and dangerous as modern Russia herself.
The fearless investigative reporter Tatiana Petrovna falls to her death from a sixth-floor window in Moscow the same week that a mob billionaire, Grisha Grigorenko, is shot and buried with the trappings due a lord. No one makes the connection, but Arkady is transfixed by the tapes he discovers of Tatiana's voice, even as she describes horrific crimes hidden by official versions.
The trail leads to Kaliningrad, a Cold War "secret city" and home of the Baltic Fleet, separated by hundreds of miles from the rest of Russia. Arkady delves into Tatiana's past and a surreal world of wandering dunes and amber mines. His only link is a notebook written in the personal code of a translator whose body is found in the dunes. Arkady's only hope of decoding the symbols lies in Zhenya, a teenage chess hustler.
More than a mystery, Tatiana is a story rich in character, black humor, and romance, with an insight that is the hallmark of Martin Cruz Smith.
Martin Cruz Smith was born Martin William Smith, but changed his middle name to his grandmother's surname, Cruz. Smith is the son of a white jazz musician and a Pueblo Indian jazz singer. His novels include Stalin's Ghost, Gorky Park, Rose, December 6, Polar Star, and Stallion Gate. A two-time winner of the Hammett Prize from the International Association of Crime Writers and a recipient of Britain's Golden Dagger Award, he lives in California.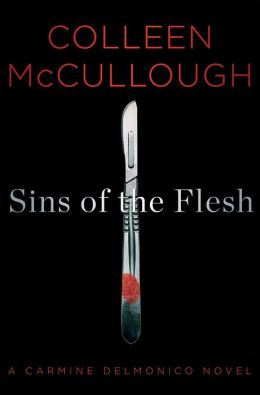 SINS OF THE FLESH by Colleen McCullough
In the next installment in the "compelling, passionate, and gritty" (Daily Mail, UK) suspense series, police Captain Carmine Delmonico is on the trail of not one but two killers.
It's August 1969 in the sleepy college town of Holloman, Connecticut, and police Captain Carmine Delmonico is away on vacation. Back at home, first one, then two anonymous male corpses turn up—emaciated and emasculated. After connecting the victims to four other bodies, Sergeant Delia Carstairs and Lieutenant Abe Goldberg realize that Holloman has a psychopathic killer on the loose. Luckily, Carmine decides to come back from vacation early.
Carmine's team begins to circle a trio of eccentrics, who readily admit to knowing all the victims, but their stories keep changing. They share family ties, painful memories, and a dark past. One of them is a new friend of Carmine's invaluable sergeant, Delia Carstairs, as is the respected head of the mental hospital, who has been doing groundbreaking work rehabilitating one very difficult patient who is now her trusted assistant. When another vicious murder rocks Holloman, Carmine faces the revelation that two killers are at large with completely different modus operandi even as he barely escapes being next in the body count. Suddenly the summer isn't so sleepy anymore.
A riveting mystery series by an author of astounding range and skill, Colleen McCullough's Carmine Delmonico books take you back to an age of classic police work, before DNA analysis and computers. Sins of the Flesh is her
finest work yet, pitting her beloved hero against every cop's nightmare scenario in a plot that turns on the sort of science that McCullough herself knows so well.
Colleen McCullough, a native of Australia, established the department of neurophysiology at the Royal North Shore Hospital in Sydney before working as a researcher at Yale Medical School for ten years. She is the bestselling author of numerous novels, including The Thorn Birds, and lives with her husband on Norfolk Island in the South Pacific.
To be entered in the drawing shoot an email over to Jon?@crimespreemag.com (remove the question mark) And put CONTEST in the subject line. Also please put your address in the body of the email.
We will pick the winners on November 22nd.
When we do the drawing we will be sending an extra something for one lucky winner to be picked from the comments section of the Friday Reads face book page, so after you enter, go leave a comment!