Tags
Related Posts
Share This
Peter Robinson and Alison Gaylin In This Weeks Contest
In conjunction with the Friday Reads facebook page, we are giving away copies of Peter Robinson's BEFORE THE POISON from William Morrow and Alison Gaylin's AND SHE WAS from Harper Collins
To be entered in the drawing shoot an email over to
Jon?@crimespreemag.com (remove the question mark)
And put CONTEST in the subject line.
Also please put your address in the body of the email
We will pick the winners on April 6th
When we do the drawing we will be sending an extra something for one lucky winner to be picked from the comments section of the Friday Reads face book page, so after you enter, go leave a comment!
http://www.facebook.com/FridayReads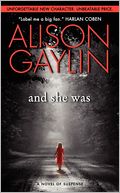 Alison Gaylin's debut book  HIDE YOUR EYES, was nominated for an Edgar Award in the Best First Novel category. Her critically acclaimed suspense novels have been published in such countries as the UK, France, Germany, The Netherlands, Norway and Japan. Her new book, AND SHE WAS, came out in March 2012 from Harper Collins — the first in a new series featuring Brenna Spector, a private investigator blessed (and cursed) with perfect autobiographical memory.
On a summer afternoon in 1998, six-year-old Iris Neff walked away from a barbecue in her small suburban town . . . and vanished. Missing persons investigator Brenna Spector has a rare neurological disorder that enables her to recall every detail of every day of her life. A blessing and a curse, it began in childhood, when her older sister stepped into a strange car never to be seen again, and it's proven invaluable in her work. But it hasn't helped her solve the mystery that haunts her above all others—and it didn't lead her to little Iris. When a local woman, Carol Wentz, disappears eleven years later, Brenna uncovers bizarre connections between the missing woman, the long-gone little girl . . . and herself.
Peter Robinson, already justifiably acclaimed for his bestselling crime fiction novels featuring British Chief Inspector Alan Banks ("The best series now on the market" —Stephen King), Peter Robinson delivers a truly stunning standalone thriller, Before the Poison. Brilliantly combining the rich, atmospheric narrative of his award-winning In a Dry Season with the twists and suspense of the noir classic Laura, Before the Poison tells the riveting story of a composer who comes to the scene of a notorious crime and becomes obsessed with a beautiful, mysterious, and possibly very dangerous woman. Evocatively set in the picturesque Yorkshire Dales, Before the Poison is a masterful tale of mystery and suspense from the Anthony and Edgar® Award winner whose extraordinary fiction Janet Maslin of the New York Times compared to, "the masculine, brooding work of Dennis Lehane, Michael Connelly, Harlan Coben, George P. Pelecanos, and Jonathan Kellerman."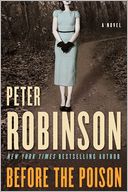 Chris Lowndes built a comfortable career composing scores for films in Hollywood. But after twenty-five years abroad, and still quietly reeling from the death of his beloved wife, he decides to return to the Yorkshire dales of his youth. To ease the move, he buys Kilnsgate House, a rambling old mansion deep in the country.
Although Chris finds Kilnsgate charming, something about the house disturbs him, a vague sensation that the long-empty rooms have been waiting for him—feelings made ever stronger when he learns that the house was the scene of a murder more than fifty years before. The former owner, a prominent doctor named Ernest Arthur Fox, was supposedly poisoned by his beautiful and much younger wife, Grace. Arrested and brought to trial, Grace was found guilty and hanged for the crime.
His curiosity piqued, Chris talks to the locals and searches through archives for information about the case. But the more he discovers, the more convinced he becomes that Grace may have been innocent. Ignoring warnings to leave it alone, he sets out to discover what really happened over half a century ago—a quest that takes him deep into the past and into a web of secrets that lie all too close to the present.