Tags
Related Posts
Share This
ARCHIE: THE MARRIED LIFE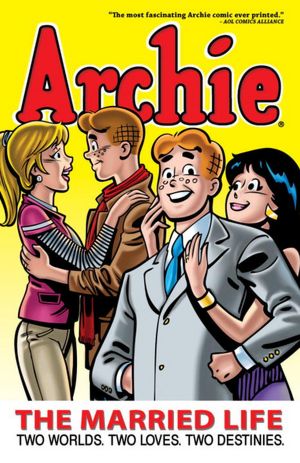 ARCHIE: THE MARRIED LIFE
Archie Comics
Oct 4th, 2011
Written by Michael Uslan and Paul Luperberg with pencils by Norm Breyfogle
Archie: The Married Life collects the first of this post marriage story arc that started back with Life with Archie #600.
Now I have always been a comics fan and while I do read mostly superhero books and the more adult books I have always had a soft spot for Archie going back to my youth when I read the comics while at the barber shop. Archie for me has always been a consistently fun comic that hearkens to a better world where troubles are not life threatening and people are happy.
By no stretch of the imagination did I turn the first pages of this book expecting The Watchmen, but this is far from the silly humor books I read as a kid. ARCHIE: THE MARRIED LIFE has two concurrent story lines set with in the Archie Multi-verse, both what if tales. In one Archie is married to Veronica living in Riverdale and working for Mr. Lodge. The story has conspiracies and problems that people are facing every day like corruption and greed and problems with the economy. The second arc has Archie and Betty married and living in New York, struggling to pay rent and eat as they discover their dreams may not end up a reality. Both stories alternate chapters and by the end of this first collection we have some wrap up, but also set up for more. There is a death, weddings, Jughead is actually responsible, Reggie seems to be grown up and Riverdale is changing. There is also a mysterious stranger lurking about who seems to be traveling between both these possible realities which brings in a nice sci fi twist.
The writing is nicely done, kids can enjoy it, but this really feels like a book for adults.Seeing Archie dealing with disappointment is really something and it's handled well.Norm Breyfogle on art was great. I remember his art from Batman, and while he is working within the look of Archie comics he still gives his own signature look.
I really enjoyed this and found myself caught up in the tale. I can't wait for Volume 2!
Jon