Tags
Related Posts
Share This
I, VAMPIRE volume 1: Tainted Love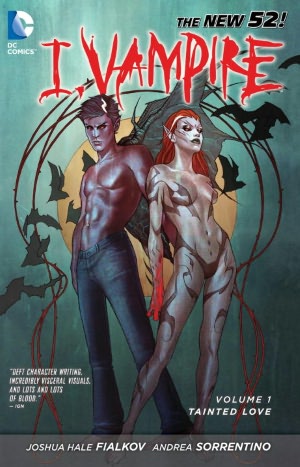 I, Vampire v.1: Tainted Love
When I saw the preview for this I rolled my eyes and shrugged, "DC is capitalizing on "Twilight" now." And they probably were. Look at the facts, an extremely obscure DC character completely revamped as a shirtless, hipster-looking, twink with gel-styled hair plastered on the cover. This, however, is the definition of "don't judge a book by its cover" because what's inside is completely different, mature and sophisticated.
Andrew Bennett is a vampire of very old lineage but lives by the knowledge that there is nothing pulling someone to do evil if they're a vampire. A vampire is responsible for itself. His ex-girlfriend, Mary, Queen of Blood, has taken it upon herself to rule all vampires, and begun executing her plan to take over the world. From the looks of what she and her followers did to Boston she's on track to do it. Andrew and his Van-Helsing-esqe friend, Professor John Troughton, start to track Mary to find and destroy her. After meeting up with a young vampire hunter named Tig (with a semi-surprising background) they discover Mary's next big victim city is the infamous Gotham.
The book ends in a cliffhanger and I cannot wait until volume two is released. Since its first issue it was hailed as a critical darling and sleeper hit. With good reason, this book not only stands out, it excels as one of the best of the new 52. Joshua Hale Fialkov has created an incredible book and made the vampires of the DCU interested and thrilling. He has held no punches with "I, Vampire" and shows it with each issue. Making each vampire responsible for themselves, that they just get wrapped up in the power and hunger, is a fantastic idea. It takes the tragic away from the vamps and just makes them evil. The book had a huge mountain to climb up, from obscurity to a stand out of the new 52s and it did it with fantastic, gripping writing and the dark, gorgeous art.
For that we have Andrea Sorrentino to thank. His style is wonderfully Jae Lee inspired but with a very personal touch. It's exactly what this bloody, moody book needs. The thick, black lines only make the rare color pop making it gothic and grisly.
Everything about this book is a major win. It has its fans but needs more. This is the collection to pick up this October. It'll keep you riveted and needing the next volume. With the momentum this book has it can only get better, bigger and bloodier.
Jo Schmidt