Tags
Related Posts
Share This
Crimespree on Comics: Jo Schmidt – Spiderman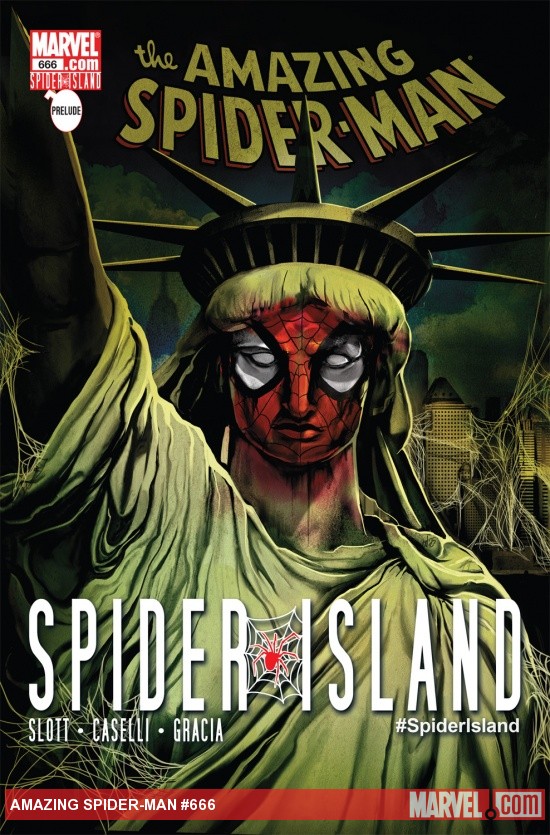 You need to read Spider-Man. Now.
Spider-Man. One of the most iconic and well-known fictional characters of all time, everyone knows who he is. And right now we are in the best (yes, I wrote it) era of Spider-Man. Ever. Over the course of 40-some years, more than 10 ongoing titles at some point, and countless appearances and stories, this is the best time to be reading "Amazing Spider-Man." Writer Dan Slott has elevated Spider-Man to the quintessential of Marvel and the comic book industry in general.
A few years ago Marvel pushed the big red reset button on Spider-Man and literally made a deal with the devil in order to change continuity. Fandom rebelled but the result was the surprisingly fun and well-done "Brand New Day" era. Marvel cut Spider-man to one title, but released it three times a month. Rotating writers and artists churned it out like crazy and the feel was reminiscent of the good-old-days but also new. Dan Slott oversaw the book, as well as wrote some brilliant storylines, until BND ended and we got "Big Time." ASM was cut to two times a month with Dan Slott as the sole writer and it was the best decision Marvel could have made.
Slott is a fanboy. He knows his continuity and characters better than most and uses it. Since he took over with "Big Time" ASM has grown with each issue. He has crafted a puzzle using pieces from every era of Spider-Man. From the beloved Roy Thomas and Stan Lee, to the controversial JMS, forgotten spin-off titles, and even the much-loathed (or loved depending on whom you talk to) "Clone-Saga," Slott has taken so many parts from history to make the perfect Spider-Man book. There is such joy in this Spider-Man. In the late 90's and early 2000's Spidey joined with the growing trend and became dark and moody, this more than a return to form. It's not only fun, but you feel better after reading it. Slott's big storyline "Spider-Island" just wrapped up and it concluded in a pinnacle of brilliance. So much was leading up to the finale, all the way from the beginning of "Brand New Day."
What makes it great is the little things. His characterization is spot-on. Everyone has a unique voice that fits who they are. From classics like J. Jonah Jameson and Aunt May, to new characters like Charlie Cooper and J. Jonah Jameson SR! (Yes, JJJ's dad is still alive! (AND MARRIED TO AUNT MAY! (!))) The interactions are always important as so many plots and sub-plots percolate. Slott knows how to craft anticipation but never leaves us bored. Before you know it, a secret is revealed which leads into something even bigger. Dr. Octopus has been planning something since issue 600. (Which was written by Slott) Claiming he's dying of cancer he's taken on Iron Man, the Fantastic Four and the Avengers. There's something big coming. Here we are at issue 670 and it's about to hit. Next year's big Spider-event is sure to be Doc Ock related and the expectations are high. Having read everything so far, there's nothing to be worried about. It's going to be big, action packed, powerful and beyond impress. This break down was only a small sampling of what Spidey has faced lately, to delve deeper we'd be here for days.
Slott is the master, but if not being joined with rotating artists that bring out the free-spirit and whimsy then it wouldn't be the success it is. The fans cannot wait to see what's next for Slott's Peter Parker. "Amazing Spider-Man" has once again become one of, if not the, premiere book of Marvel. One thing, Mr.Slott, please, never leave.
Jo Schmidt