Tags
Related Posts
Share This
Darabont bringing Zombies to the land of MAD MEN.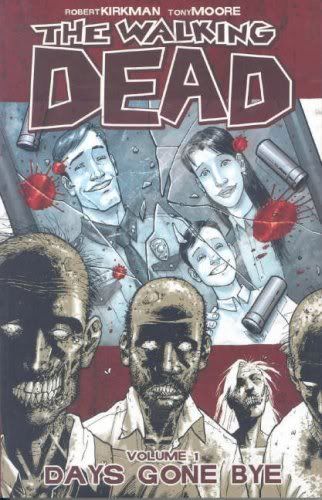 Mr. Jon is pretty pumped today. Earlier, he sent
me a link to the Variety story
about Frank Darabont adapting the graphic novel series THE WALKING DEAD into a television series for AMC.
I confess I know little about the series, so I asked Mr. Jon to give tell me about it:
Walking Dead was created by Robert Kirkman and is published by Image comics starting in 2003. Kirkman has since become one of the partners at Image and his other books include Invincible and Brit. The art was originally by the amazing Tony Moore, and in issue 7 art chores were taken over by Charlie Adlard.

What makes Walking Dead so much more than other comics about Zombies is the fact that the zombies are a means of telling a story, not the story itself. The series is actually about the people who survive what befell mankind and how they live now in a world over run by the walking dead, when they themselves appear to be just that.

The comic follows a a Kentucky police officer (Rick Grimes)as he finds
his wife and son, and then along with other survivors try to find a safe
place to live. Along the way other survivors are found and they caravan
from one place to another, finding survivors and losing members of their
party. They also encounter other groups and the way in which different
people try to survive is a real study in human nature. The series is
terrific.
Jon

That sounds pretty damn cool. And Frank, quite simply, rocks mightily. Not only is he a three-time Oscar-nominee, he is a good guy and enjoys the supernatural. His two biggest films (THE GREEN MILE, THE SHAWSHANK REDEMPTION) were both adapted from books so he clearly understands the art of doing so without making the end product suck.
Frank will be both writing and directing the series.