Tags
Related Posts
Share This
Dashiell Hammett, Reba White Williams and Julia Spencer-Flemming
Crimespree Magazine,  in conjunction with Friday Reads Facebook page,  is giving away copies of Dashiell Hammett's THE HUNTER AND OTHER STORIES, Reba White Williams's RESTRIKE and Julia Spencer-Fleming's THROUGH THE EVIL DAYS audiobook.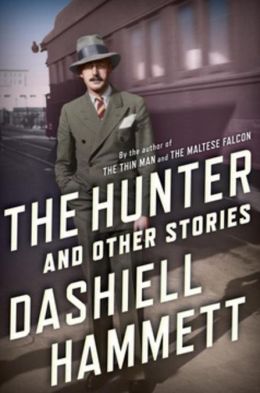 THE HUNTER AND OTHER STORIES by Dashiell Hammett
THE HUNTER AND OTHER STORIES is a unique literary publication from one of the greatest writers of the 20th century, Dashiell Hammett. This volume includes both new Hammett stories gleaned from his personal archives along with screen treatments long buried in film-industry files. The best of Dashiell Hammett's unfamiliar treasures have been rescued from deep in these archives: screen stories, unpublished and rarely published fiction, and intriguing unfinished narratives. Hammett is regarded as both a pioneer and master of hard-boiled detective fiction, but these dozen and half stories that explore failed romance, courage in the face of conflict, hypocrisy, and crass opportunism, show him in a different light. The collection also includes two full-length screen treatments. "On the Make" is the basis for the rarely seen 1935 film Mr. Dynamite, starring a corrupt detective who never misses an opportunity to take advantage of his clients rather than help them. "The Kiss-Off" is the basis for City Streets (1931), with Sylvia Sydney and Gary Cooper caught in a romance complicated by racketeering's obligations and temptations. Like the screen stories from RETURN OF THE THIN MAN, they read as novellas-rich in both story and character.
Publication of these new volumes is due to the passion of Julie M. Rivett, Hammett's granddaughter and a well-regarded Hammett scholar, as well as Richard Layman, the author of the first full-length biography of Hammett, Shadow Man, the definitive bibliography, and other works. Rivett and Layman are trustees for Hammett's literary estate and have co-edited two previous Hammett volumes-Selected Letters of Dashiell Hammett and Dashiell Hammett: A Daughter Remembers. THE HUNTER AND OTHER STORIES will appeal to longtime Hammett fans, and introduce a new generation to one of the most influential voices in American fiction.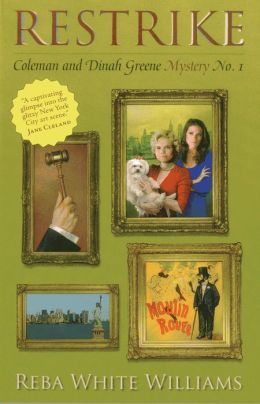 RESTRIKE by Reba White Williams
Money and murder go hand in glove in the rarified art world of Reba White Williams's exciting first novel, RESTRIKE.
Cousins Coleman and Dinah Greene moved from North Carolina to New York after college to make their mark on the art world. Coleman is the editor of an influential arts magazine and Dinah is the owner of a print gallery in Greenwich Village. But their challenges are mounting as one of Coleman's writers is discovered selling story ideas to a competitor and The Greene Gallery is in the red because sales are down.
When billionaire Heyward Bain arrives with a glamorous assistant, announcing plans to fund a fine print museum, Coleman is intrigued and plans to get to know Bain and publish an article about him. Dinah hopes to sell him enough prints to save her gallery. At the same time, swindlers, attracted by Bain's lavish spending, invade the print world to grab some of his money.
When a print dealer dies in peculiar circumstances, Coleman is suspicious, but she can't persuade the NYPD crime investigator of a connection between the dealer's death and Bain's buying spree. After one of Coleman's editors is killed and Coleman is attacked, the police must acknowledge the connection, and Coleman becomes even more determined to discover the truth about Bain. In an unforgettable final scene, Coleman risks her life to expose the last deception threatening her, her friends, and the formerly tranquil print world.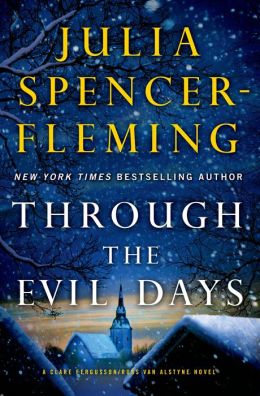 THROUGH THE EVIL DAYS by Julia Spencer-Flemming
New York Times bestseller Julia Spencer-Fleming raises the stakes for Russ and Clare, putting their new marriage, their unborn child, a missing teen, and their very own lives on the line
On a frigid January night, Chief of Police Russ Van Alstyne and Reverend Clare Fergusson are called to the scene of a raging fire that quickly becomes a double homicide and kidnapping. Which is the very last thing Russ needs. Currently he's struggling with the prospect of impending fatherhood. And his new wife is not at all happy with his proposal for their long-delayed honeymoon: a week in an ice-fishing cabin. The vestry of St. Alban's Church has called for the bishop to investigate Clare's "unpriestly" pregnancy. She has one week to find out if she will be scolded, censured, or suspended from her duties. Officer Hadley Knox is having a miserable January as well. Her on-again-off-again lover, Kevin Flynn, has seven days to weigh an offer from the Syracuse Police Department that might take him half a state away.
As the days and hours tick by, Russ and Clare fight personal and professional battles they've never encountered. In the course of this one tumultuous week the lives of the Millers-Kill residents will change forever. Readers have waited years for this newest book and Julia Spencer-Fleming delivers with the exquisite skill and craftsmanship that have made her such a success.
To be entered in the drawing shoot an email over to Jon?@crimespreemag.com (remove the question mark) And put CONTEST in the subject line. Also please put your address in the body of the email.
We will pick the winners on December 13th.
When we do the drawing we will be sending an extra something for one lucky winner to be picked from the comments section of the Friday Reads face book page, so after you enter, go leave a comment!