Tags
Related Posts
Share This
DEATH'S LAST RUN by Robin Spano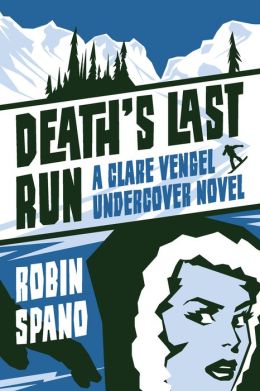 ECW Press
Pub Date: May 1, 2013
When 23-year-old Alexandra "Sacha" Westlake is found dead on a glacier in Whistler, British Columbia, her wrists slit and her snowboard still attached to her feet, it's generally assumed she committed suicide. Sacha's mother Martha, however, doesn't believe for a moment her daughter could have taken her own life, and uses her influence as a U.S. Senator and Presidential hopeful to get the FBI to launch a joint investigation with the Royal Canadian Mounted Police.
Enter undercover agent Clare Vengel, who's tasked with posing as fledgling snowboarder Lucy Lipton and infiltrating Sacha's circle of friends. That assignment proves easy enough, but things take a turn for the complicated when Clare discovers that not only was Sacha big into the Whistler drug scene, but was also helping to smuggle LSD into the United States. Can Clare uncover the true circumstances surrounding Sacha's death before her new acquaintances learn her real identity, or is she doomed to become a real-life snow angel, herself?
Death's Last Run is Robin Spano's third Clare Vengel Undercover novel, and it's a fabulously entertaining read. Spano's prose is witty and stylish. Her mystery is complex, multi-layered, and chock full of suspects and misdirects. Her pacing's quick, her narrative drive is strong, and her plot is rich and compelling. Don't let the quirky, fun cover design fool you: while the book's mood and tone are generally light, the story has its fair share of edges, offering not only a shockingly deep and thought-provoking commentary on U.S. drug policy, but a scathing take-down of U.S. electoral politics, as well.
Spano's characters are unique and multifaceted, and to a one make for great company. Clare, in particular, is someone I'd love to get to know in real life; smart, snarky, and not just a little reckless, she's got so much moxie it's practically contagious. Drug dealer Ritchie and snowboard-instructor-slash-LSD-manufacturer Chopper both possess so much goofy charm you perversely find yourself rooting for their success. And to Spano's great credit, she seems equally comfortable writing from the perspective of each of her cast members, transitioning effortlessly from one narrative voice to the next and never lingering too long in one place.
Robin Spano doesn't pull any punches with Death's Last Run; the book's not only charming, it's got swagger. Buy yourself a copy, and then strap on a helmet, because Death's Last Run is a twisty, turny, mogul-filled ride from start to thrilling finish.
Katrina Niidas Holm