Tags
Related Posts
Share This
DECEMBER DREAD by Jess Lourey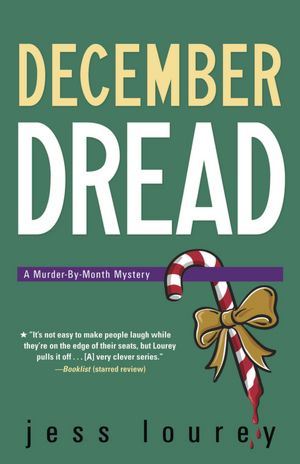 Midnight Ink
Publication date: October 8th, 2012
December in Minnesota usually conjures up images of snowmen, sleigh rides, yummy baked goods, and families gathering together. For many, this is the only month of the year when winter in the state is actually tolerable. The Christmas lights and good cheer make the locals look past the black ice and snowdrifts.
But if Jess Lourey's protagonist Mira James is near-by, it could also means dead bodies. The Murder by Month series has reached the end of the calendar year with DECEMBER DREAD. This month Mira heads home to Paynesville for the holidays and starts getting serious about earning her private investigator license. At the same time a serial killer is targeting women in the area with brunette hair and in their thirties, just like Mira. The media and police name the killer the "Candy Cane Killer" because of the candy canes sent to the victims before they meet their untimely deaths.
This time around Mira partners up with Mrs. Berns, the feisty octogenarian from Battle Lake, to track down the killer. Their adventures take them to small towns in outstate Minnesota to investigate the connection between all of the victims. The pair proves that they are greater Minnesota's answer to Cagney and Lacey. Mrs. Berns continually pushes Mira out of her comfort zone to get the answers and information that they need to crack the case.
Mira also learns that the ghosts of the past aren't as scary as she remembers. She couldn't wait to leave the nickname "Manic Mira" behind after high school and left Paynesville as soon as she could. She hasn't been home since. When she does go home at the beginning of the book, she has steeled herself for the ghosts and the horrible memories. Mira learns that everyone has moved on and she was the one holding onto the past.
Jess Lourey has moved Mira from stumbling upon bodies in the local library to actively pursuing a serial killer. DECEMBER DREAD is easily the darkest book in the Murder by Month series. Ms. Lourey takes an interesting approach to the book by writing some chapters from the killer's perspective. This change to the story narrative increases the creepy-factor of the book.
The books in the series have progressively gotten faster paced and darker. It's been said that January is the darkest month of the year. I can only imagine what awaits Mira next month.