Tags
Related Posts
Share This
Denise Mina & Duane Swierczynski are featured in this week's Giveaway
This week , in conjunction with Friday Reads Facebook page, we are giving away copies of Duane Swierczynski's POINT & SHOOT and Denise Mina's THE GIRL WITH THE DRAGON TATTOO graphic novel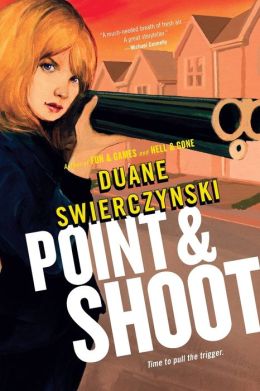 POINT & SHOOT by Duane Swierczynski
The series of fast-paced crime novels that began with Fun and Games ("Insanely entertaining" –Josh Bazell) and Hell and Gone ("Swierczynski puts the rest of the crime-writing world on notice" –Laura Lippman) reaches its astonishing conclusion.
FUN & GAMES AND HELL & GONE COME FULL CIRCLE IN THE HARDIE SERIES' ASTONISHING CONCLUSION.
Charlie Hardie finds himself in a steel box, tubes and wires attached to his body, trapped inside a satellite parked in orbit 500 miles above the Earth. He's got a year's supply of food, air, water, and no communication back to Earth, and must complete his 12 months' duty or his wife and son will have an "accident."
But when someone all-too-familiar docks on the satellite, informs Hardie he's sitting in a veritable zero-G vault containing the world's most dangerous secrets, and forces a crash-landing in the middle of the Pacific Ocean, Hardie must decide whether he's come face-to-face with the partner he needs to save his family–or with his nemesis. After years of exile, Hardie's arming up….and heading home.
Duane Swierczynski is the author of several crime thrillers and also writes the X-Men spinoff CABLE and IMMORTAL IRON FIST for Marvel Comics. His novels include EXPIRATION DATE; FUN AND GAMES; LEVEL 26, cowritten with CSI creator Anthony E,. Zuicker; and SEVERANCE PACKAGE. He lives in Philadelphia with his wife and children.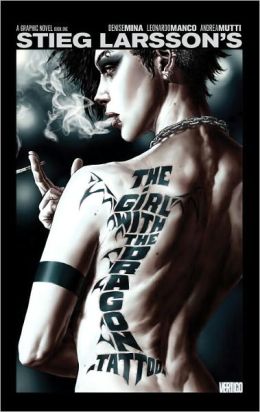 THE GIRL WITH THE DRAGON TATTOO by Denise Mina
DC Comics/Vertigo will publish the official graphic novel adaptation of Stieg Larsson's "Millennium Trilogy," starting with THE GIRL WITH THE DRAGON TATTOO, the international publishing phenomenon. Each book in the "Millennium Trilogy" will be adapted in two hardcover graphic novel volumes.
Harriet Vanger, a scion of one of Sweden's wealthiest families disappeared over forty years ago. All these years later, her aged uncle continues to seek the truth. He hires Mikael Blomkvist, a crusading journalist recently trapped by a libel conviction, to investigate. He is aided by the pierced and tattooed punk prodigy Lisbeth Salander. Together they tap into a vein of unfathomable iniquity and astonishing corruption.
Denise Mina is the award-winning author of ten acclaimed crime novels, including Slip of the Knife, The Dead Hour, Field of Blood, Deception, and the Garnethill trilogy, and is one of the leading figures in Scotland's "Tartan Noir" genre of crime fiction. Denise made her comics debut with a 13-issue run of HELLBLAZER in 2006-2007. Her first graphic novel was the Vertigo Crime title A SICKNESS IN THE FAMILY. She lives in Glasgow
To be entered in the drawing shoot an email over to Jon?@crimespreemag.com (remove the question mark) And put CONTEST in the subject line. Also please put your address in the body of the email
We will pick the winners on April 26th.
When we do the drawing we will be sending an extra something for one lucky winner to be picked from the comments section of the Friday Reads face book page, so after you enter, go leave a comment!